March 3, 2021 | Chris Corley
10 Years Later ... Looking Back on 2011 'Tietjen' Single Vineyard Cabernet Sauvignon
It's always enlightening to look back and see where we've been, in life and in winegrowing. We're fortunate as family winegrowers that we've been able to work with the same vineyards across Napa Valley for decades. It allows for a perspective of a single vineyard over a long period of time. We've worked with the same five vineyards, that span almost the length of Napa Valley, for most of the last 50 years. Working with a vineyard year in and year out provides perspective, as we inevitably will have better and worse vintages than others.
The 2011 vintage was one that stood out this millenium. It was a challenging growing season, in large part due to untimely rains close to harvest. This had many winegrowers working a little harder that season than usual. The vintage took a little of bit from the media at the time, and while it was indeed a difficult vintage, I think it was painted with too broad a critical stroke.
At Monticello, we like to focus on destination, not navigation. In 2011, our destination remained the same ... to make wonderful wines. That vintage made the path a little more difficult to navigate, but we embrace the journey! In winemaking, as in life, sometimes removing the negatives is the first step towards finding the positives. This was certainly the case in 2011. We sorted the fruit in the vineyard, we sorted the clusters on the crush pad, we sorted the grapes after they were destemmed. After we were done sorting, we sorted some more! All sorts of sorting! Removing the negatives to get to the positive core, which was the clean ripe, plump berries within the clusters.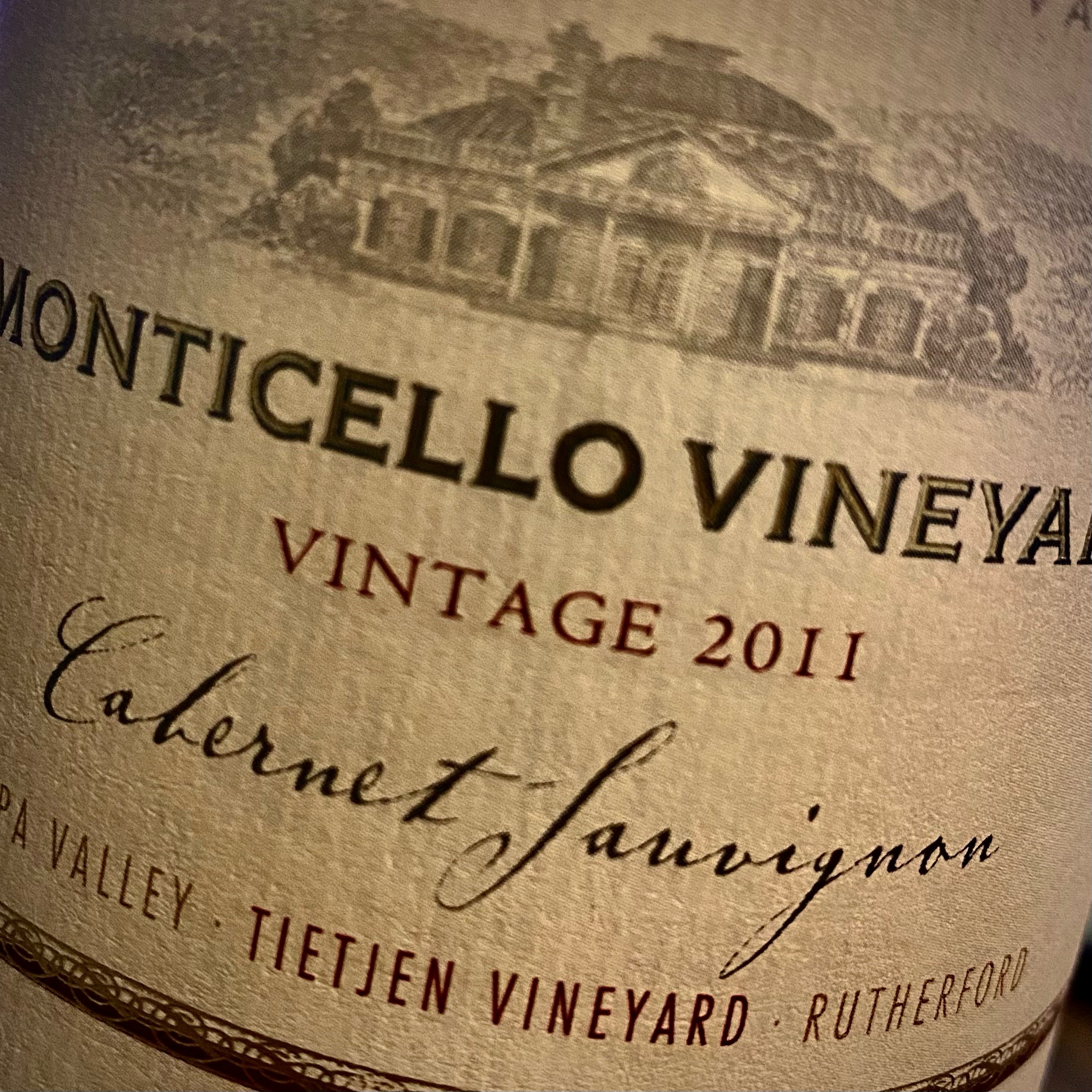 We've been enjoying a lot of the wines from 2011 this year, as it's fun to look back 10 years to see how the wines are doing, especially with our single vineyard Cabernet Sauvignon bottlings. Over the last month or so, we've been enjoying a fair bit of the 2011 Tietjen Vineyard Cabernet Sauvignon. This vineyard is on Niebaum Lane in Rutherford, and has been hallmark single vineyard bottling for us for decades. At ten years, and with about 30 minutes in a decanter, this wine is singing! The aromas are deep, with blackberry, plum and a nice beam of vanillin oak in the background. On the palate, the wine is smooth as silk, as the tannins have evolved wonderfully over the last 10 years.
We've always been very good about setting aside some wines, and we do have some of the Tietjen Vineyard Cabernet Sauvignon 2011 still available. If you're interested in trying this wonderful vineyard at 10 years, please call us at the winery (707) 253-2802, or check in with us online at www.corleyfamilynapavalley.com/wines