May 30, 2020 | Chris Corley
Check Out our Library Wines! Corley 'Proprietary' Red Wine 2005-2007
A few weeks before we picked our first grapes of the 2005 vintage, our daughter Ruby was born. That day, Ruby joined her 15 month old brother Jackson in making our hearts whole, and our house a very happy place. In terms of birth year wines, both of my kids are fortunate, since 2004 and 2005 were both good vintages, albeit for contrasting reasons. In the vineyards, 2004 was a hot, fast growing season, while 2005 was a long, cool growing season. Ironically, my kids temperaments are somewhat opposite to their birth-year viticultural growing seasons, but they will both be happy that I've tucked away some nice large format bottles for them to enjoy when the time is right.
Wine vintages correspond with specific times in our lives. Growing seasons correspond with life seasons. Sometimes the characteristics of each synchronize, at other times they contrast. Regardless, it is one of the primary joys of opening up older wines. The vintages remind of us of a specific time in our past, for better or for worse, hopefully for the better.
When we open older wines, we hope to enjoy the full rush of aromas, flavors and textures that only time and patience can deliver. These are the tertiary characteristics that winegrowers and winemakers can not make, but rather we set the stage for them to develop.
Primary characteristics in wine come from the grapes themselves. These are the fruit aromas, the fruit flavors, the natural characteristics from the grapes. For the most part, these primary characteristics are primarily found in the skins.
Secondary characteristics in wine come from the winemakers hand. Examples of these are tannin levels, determined by fermentation techniques. Oak influence, determined by the amount of new barrels the winemaker uses. For Chardonnay, malolactic fermentation (butteriness) is a secondary characteristic driven by the winemaker.
Tertiary characteristics in wine develop with time. We don't grow or make them, but rather we set the stage for them.
As an example, when we make a robust Cabernet Sauvignon, we evaluate the tannin levels alongside the aromas and flavors. We need to determine if the aromas and flavors are robust enough to last 20+ years. Then we need to determine if the tannin strength and age-ability is in sync with the robustness of the flavors and aromas and other textural components, so that they all age gracefully at the same rate, allowing the tannins to soften and the flavors and aromas to develop into tertiary characteristics. This analysis is all done with some of the most sophisticated enological tools currently available … noses, palates, experience, and imagination.
With the tasting room closed for the last couple of months, we've had an opportunity to dig into the library and dust off some older bottles that have been resting back in the far reaches of the cellar.
We've selected a mini vertical of three vintages of our Corley 'Proprietary' Red Wine, 2005-2007, to share with you.
These three vintages are all wonderful, yet individually distinct in their own rights. Here are some notes from
Wine Enthusiast
from when the wines were originally released. In our next blog post, I'll share some personal notes from each vintage, and some update notes of how the wines are tasting now!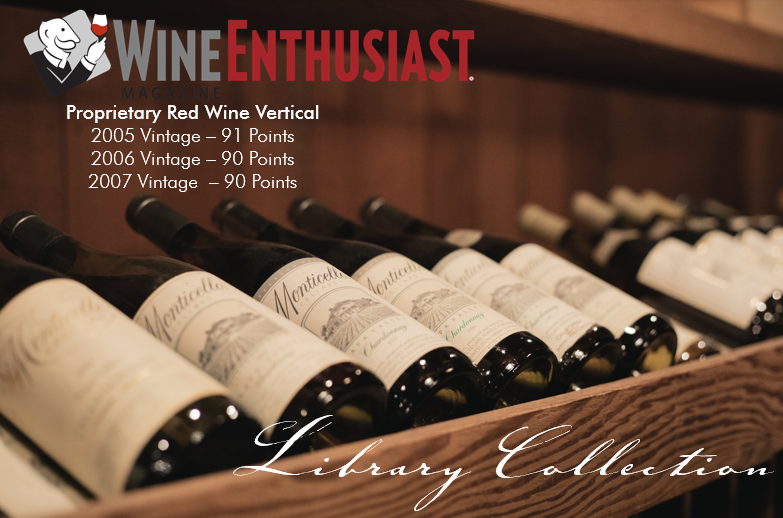 "This Bordeaux-style blend, which this year contains a bit of Syrah, seems to vary vintage to vintage. The '05 is based on Cabernet Franc. It shows a fine structure. The oak-infused black cherry, black currant, violet and anise flavors are impressive."
"[An] elegant wine. Shows blackberry, black currant, anise and cedar flavors that taste sweet and rich..."
"Makes for nice drinking right now, because of the abundance of forward, jammy blackberry and cherry fruit."