July 16, 2021 | Chris Corley
Founder's Month | Library Selection : CORLEY Cabernet Sauvignon 'Reserve' 1999
As we celebrate Founder's Month this July, we're pulling some wonderful wines from the library. Tasting back through these older wines truly reflects our long-thinking commitments to our stewardship of the land that our Founder Jay Corley started more thn 50 years ago. These library selections were specifically made to improve over time, and to age gracefully for +20 years.
This week, we're focusing on the
CORLEY Cabernet Sauvignon 'Reserve' 1999
. Here is some additional information on this special wine, pulled from the original tasting notes, which I assembled when the wine was bottled in 2001.
TASTING NOTES (Original) | Our Vintage CORLEY Cabernet Sauvignon 'Reserve' 1999 has fragrant aromas of rich bright black-fruits that are followed by superb black-cherry and blueberry flavors with spicy aromatics and elegantly presented in a rich and full-bodied wine.
- Winemaker Chris Corley
BLEND | 82% Cabernet Sauvignon, 9% Cabernet Franc and 9% Merlot
This 7 ½ acre vineyard on Niebaum Lane is a consistent favorite. The Cabernet Sauvignon from this vineyard shows a great core of berry fruit with tremendous brightness. It also adds an elegance and suppleness to the texture of the wine.
This small vineyard on Ehlers Lane was planted in the early 1970's and produces cabernet sauvignon of great power and intensity that gives black-fruit character and rich texture to the wine.
CABERNET FRANC
| Knollwood Vineyard | Big Ranch Road, Oak Knoll District, Napa Valley
Cabernet Franc clones #332, #312 and 'Clone X' are planted to this 30-acre vineyard site. The Cabernet Franc from these plantings bring spicy aromas and a velvety texture to the wine.
MERLOT
| Monticello Vineyard | Big Ranch Road, Oak Knoll District, Napa Valley
The Merlot in the wine comes from Clones #181 and #6 planted to #3309 rootstock. The Merlot offers gorgeous blue-berry and red berry flavors and aromatics. The bright fruit is accompanied by a suppleness that shows in the mouth-feel of the final wine.
HARVEST & AGING | Harvested October 6-16, 1999 at 23.5 brix. Aged 24 months in French Oak.
VINTAGE CHART
| Here is a terrific vintage chart from
The Napa Vintners
that graphically shows the growing season in 1999.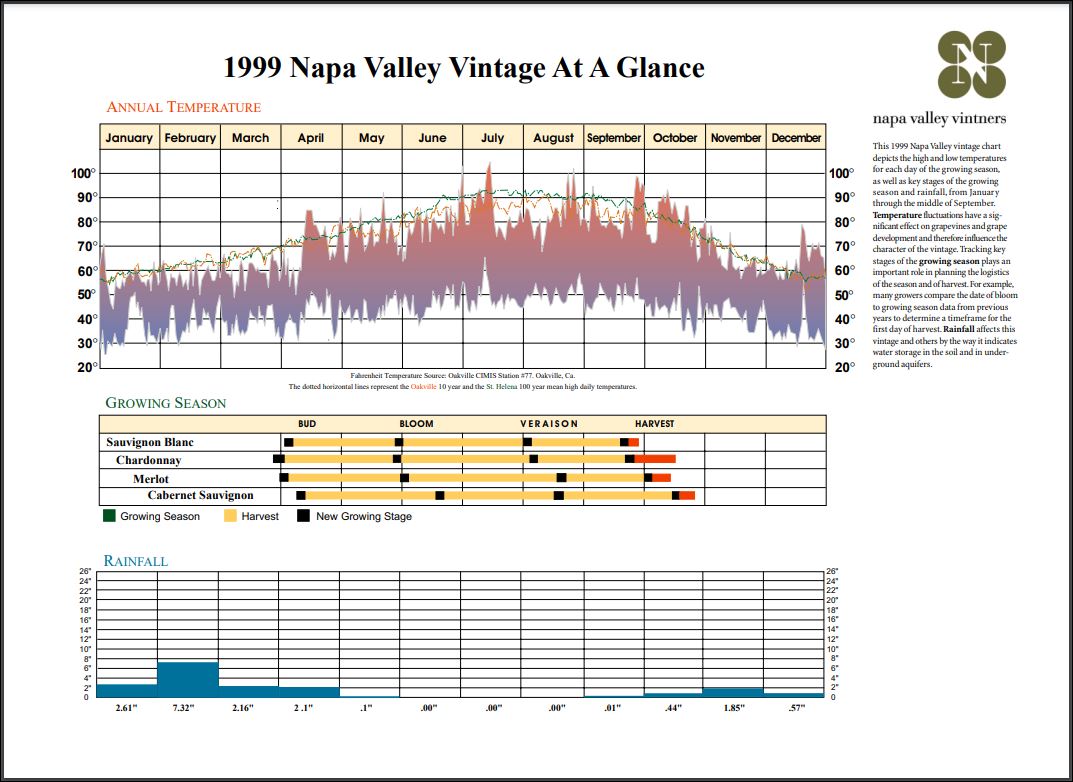 Cheers!