April 22, 2020 |
The Corley Family
Monticello Vineyards, a family-owned and family-operated winery in the Oak Knoll District of the Napa Valley, is excited to announce that Earth Day and Monticello Vineyards share the milestone of turning fifty years old in 2020.
On April 22, 1970, 20 million Americans — 10% of the U.S. population at the time — took to the streets, college campuses and hundreds of cities to protest environmental ignorance and demand a new way forward for our planet. The first Earth Day is credited with launching the modern environmental movement, and is now recognized as the planet's largest civic event.
On April 22, 1970, a 38-year-old Jay Corley surveyed a 120 acre prune orchard along the Napa River in southern Napa Valley and envisioned planting a vineyard with Chardonnay and Pinot Noir. Within three months the purchase was made and it would forever change the Corley Family.
Little did the first participants of Earth Day know that their first protest would became a global phenomenon. Likewise, even though it would become known as the Golden Age of the modern wine pioneers in Northern California, it wasn't yet clear in that moment. In fact, from the vantage point of Jay Corley's wide circle of business associates, the endeavor looked downright peculiar.
The family-owned and family-operated California wineries that started in the 1960s and 1970s, and introduced New World wines to the world, are harder to find now. Those that do remain share a devoted respect for the land and for sustainable practices. We see it in the vineyards and we see it reflected in the wines.
"As a multi-generational winegrowing family in Napa Valley we are very mindful of our environment and community," remarked Kevin Corley, President and Winegrower. Our State Lane Vineyard and Knollwood Vineyard, where we grow Cabernet Sauvignon, Merlot and Syrah, are certified organic and NAPA GREEN certified.
The most visually obvious representation of sustainability are the solar panels placed in and around many vineyard estates and winery operations of the Napa Valley. "We use a comprehensive range of practices from organic farming to the installation of solar panels to steward the land for future generations, protect the environment and wildlife, while maintaining the highest quality grape growing and winemaking. The Corley's are also committed to our community and have been active over these past 50 years in volunteering and leading many needed local nonprofit organizations."
Monticello planted its solar array with 550 Sun Power High Efficiency silver-framed premium modules. These modules, or solar panels, are affixed to six solar arrays whose power generation is converted to DC power with six SMA TriPower Inverters. SolarCraft of Novato, CA, the 100% employee-owned and North Bay's leading solar provider for 35 years, installed the system in 2017.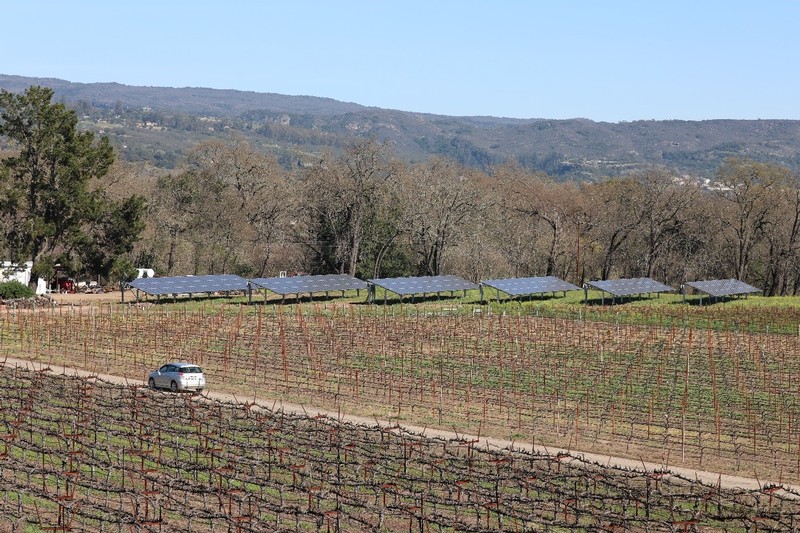 The system since its installation has produced approximately 720,000 kWh's of energy which has reduced the amount of CO2 released into the atmosphere by approximately 505 tons. That's equal to 56,262 gallons of gasoline, or 1.2 million miles driven by an average passenger car, or the burning of 550,931 pounds of coal.
"These last 50 years, our family has pursued a commitment to estate grown wines, to the land we steward, and to passionate winemaking," says Stephen Corley, Director of Sales and Marketing. "In 2020, the second and third generations of Corleys enter the 2nd half of our first century with the full recognition that we are borrowing the land we steward from future generations of humanity. Our stewardship is not only of the land through sustainable farming and winemaking techniques but also our business practices and our commitment to community."