Jay Corley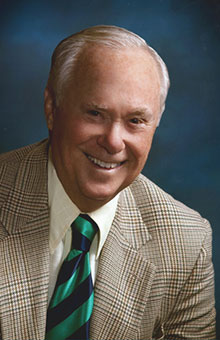 July 30, 1931 to January 11, 2016
Jay Corley, our Founder, passed away peacefully surrounded by his family at age 84 on January 11, 2016.
He was a father, a patriarch, a pioneering vintner, and always a gentleman. He leaves a legacy of family, gracious hospitality, and civic service.
---
Jay Corley, the visionary and beloved founder of Monticello Vineyards, passed away peacefully at age 84 on January 11, 2016, after a long battle with cancer. His bold spirit and lively sense of humor continue to permeate our vineyards and winery today. Every aspect of our business, from varietal to vintage, is infused with Jay's character and passion for fine wine.
Jay was born on July 30, 1931, in Evanston, Illinois, to Helen and John Corley. A graduate of Cranbrook High School in Bloomfield Hills, Michigan, and Stanford University, Jay also attended the Army Language School in Monterey, California, while serving in the military. Following a stint with the National Security Agency, he earned his MBA from Pepperdine University. For his master's thesis, Jay wrote a business plan for a vineyard and winery in the Napa Valley, a plan which served as Monticello's guiding document for decades.
An entrepreneur to the core, Jay founded and managed a number of successful businesses in Southern California in the 1960s before finding himself drawn to the wine region of Northern California. As the Napa Valley wine industry slowly emerged from near total collapse following the repeal of Prohibition, Jay recognized the region's growing potential for producing world-class wines. In 1969 he moved north to turn the dream embodied in his vineyard-and-winery business plan into a reality.
Jay purchased the land for his vineyard in an area now known as the Oak Knoll District of Napa Valley. Over time he transformed the tired and gnarly prune orchard he had acquired into a world-class vineyard with the potential to make classic wines. He spent more than a decade growing and selling his grapes to other wineries.
In 1981, Jay established and built his winery at Monticello Vineyards and began to produce his own estate-grown wines. In the 1980s he established several additional vineyards from which the family produces their estate grown wines. Today, Monticello remains a family-run business, producing some 15,000 cases of highly regarded wine each year. Four of his sons run the winery, a source of great pride for Jay, and he took equal delight in the early interest shown by the third generation of the family.
Jay was a champion not just of Monticello Vineyards but also of the Napa Valley wine industry. He was a fixture in the civic life of the local community. He served on many boards and foundations, including Queen of the Valley Hospital and Napa Valley Planning Commission. He chaired the Napa Valley Wine Auction, served on the Napa Valley Grand Jury, and was a longtime and active member of Napa Rotary. He relished his affiliations with the Chevaliers du Tastevin, the Wine and Food Society of Southern California, and the GONADS, the Gastronomical Order for Nonsensical and Dissipatory Society), a group of fun-loving, dedicated friends and fellow Napa Valley wine-industry pioneers.
Jay was a life-long sports fan and devoted Chicago Cubs backer, dating back to childhood visits to Wrigley Field with his father in the 1930s. He loved to spend weekends tailgating in the eucalyptus grove at Stanford Stadium, cheering on his alma mater from the old wooden benches. He also enjoyed swing music and travel.
Jay was a man of many and varied interests, but his greatest love was his large family, which today remains his grandest legacy. He is survived by his wife Joan Corley, brothers Todd and Paul, his children Kevin, Kent, Mark, Michael, Stephen, Chris, and Carolyn, twelve grandchildren, extended family, loved ones, and countless others whose lives he touched.
When you are sorrowful look again in your heart and you shall see that in truth you are weeping for that which has been your delight.
In lieu of flowers, the family asks that you send donations to their chosen local nonprofit, North Bay Cancer Alliance (NBCA). NBCA has created a Jay Corley Memorial Fund that will assist low-income cancer patients in Napa Valley. Please make checks payable to North Bay Cancer Alliance, 185 Sotoyome Street, Santa Rosa, CA 95405. On the envelope or in the memo section of the check you can reference the Jay Corley Memorial Fund. For tax purposes the nonprofit Tax ID# is 01-0821673.