WINE CLUB TESTIMONIAL
Wine Club Member testimonial
VISITOR TESTIMONIALS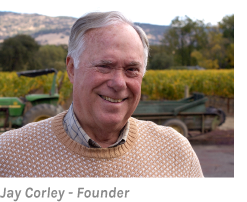 "My wife and I were introduced to Monticello Vineyards some years ago when we were up in Bayfield, Wisconsin, dining in the The Clubhouse on Madeline Island (in the Apostle Islands). Jay Corley was there in person to introduce four different wines with courses prepared by the award winning chef, Jim Webster. The wines were just superb. We longed to get more once we returned home. Then, when we vacationed about 6-7 years ago in Napa, we visited the winery, where we were delighted by the wines we tasted and stunned to learn of all the Wisconsin connections. We of course signed up for the wine club and have continued since, ordering in between shipments of different offerings. I can say without meeting Jay and tasting his fabulous wines at the dinner, we would have probably never discovered these treasures. In other words, we got lucky!"
—Tim Meyer, Green Bay, WI
---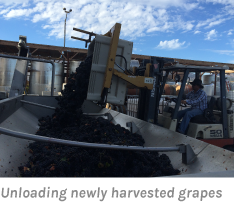 "One of the reasons we keep coming back to Monticello (besides the great juice) is this story about the way we were treated during one of our first visits a few years ago.
My wife and I drove in, walked over to where they were unloading the newly harvested grapes and stood outside the fence watching them work. Along came Gayle, who said "you can't see anything from here" and proceeded to lead us through the gate and along the path of the grapes as they went from the containers to sorting to juice in the tanks. It was entertaining, educational and welcoming.
Monticello is always the first place we visit when we come to The Valley from North Dakota (after stopping at Soda Canyon Deli to pick up lunch). All of your people make us feel like family. Many thanks to Gayle, Linde and all the others."
—Larry Wood, Bismarck, ND
---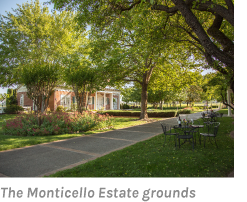 "I wanted to share with you how very important Monticello Vineyards has been to my husband and I. Back in 1998, we stumbled upon your beautiful winery and decided that we had found the perfect place to get married. And so in September of that same year, we said our vows, enjoyed your amazing wine, and dined with friends and family on an absolutely perfect and wonderful evening.
Back in 2008 we spent a wonderful week in the Napa Valley celebrating our 10 year wedding anniversary and of course we spent time reminiscing at Monticello. It holds so many beautiful memories for us and we are so very grateful that we discovered you all those years ago.
We now live in the suburbs of Chicago (a very long way from Monticello....) and have three beautiful children and just finished building a wine cellar down in our basement to house your amazing wines. We love getting our wine club shipments and everytime we share a bottle of your wine, we are reminded of how lucky we are to not only have found one another, but to have found a special place like Monticello to say our "I do's"
Thank you so much! We hope to see you again soon! Happy New Year!"
— Amy and Phil Gelber, Glen Ellyn, IL