Enjoy a wonderful evening with Winemaker Chris Corley, including a vineyard and winery tour, and private Winemaker Dinner with your group. You'll be seated in our elegant and classically style formal Dining Room in our Monticello House, where you'll be treated to a five course meal, expertly paired with our 100% Estate Grown wines. Minimum 6 Guests.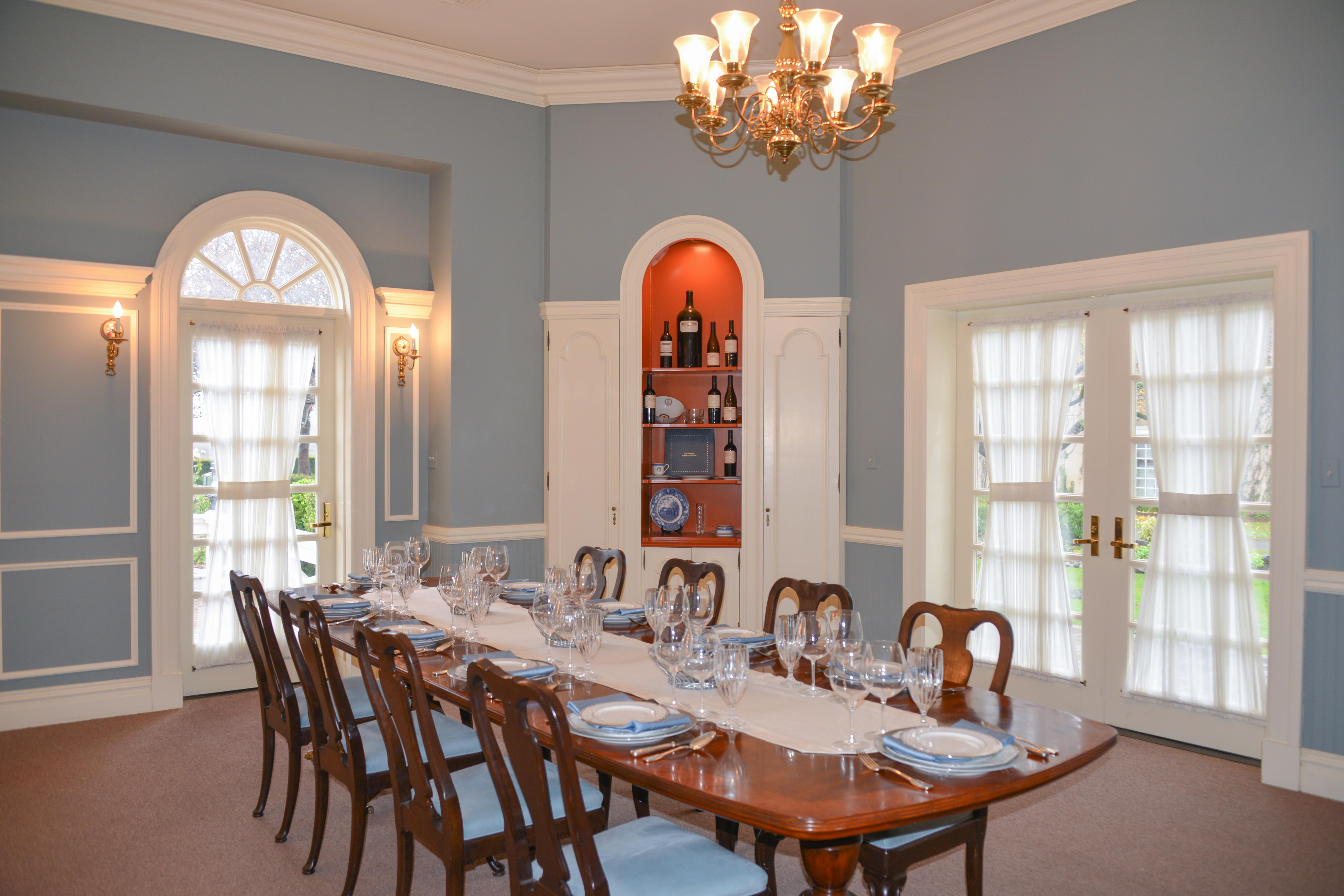 EXAMPLE MENU
APPETIZERS
MONTICELLO 'Montreaux' Sparkling Wine
MONTICELLO 'Estate' Rose of Pinot Noir
Avocado Toast Points
Tomato Bruschetta with Balsamic Reduction
Ahi Tuna Tartare Won-Tons
Ginger and Sweet Soy
Tobiko Caviar
Sonoma Lamb and Pistachio Meatballs
Labneh Cheese and Sumac
FIRST COURSE
MONTICELLO 'Reserve' Chardonnay | Block 1, Clone 96
Arugula and Baby Gem Lettuces
Warm Goat Cheese Medallion
Roasted Garden Tomatoes, Fennel and Shallots
Honey Walnut Vinaigrette
Della Fattoria Crostini
SECOND COURSE
MONTICELLO 'Reserve' Pinot Noir | Block 2, Clone 777
Seared Scottish Salmon
Cauliflower Puree
Roasted Corn Relish
ENTREE
MONTICELLO 'Reserve' Proprietary Red Wine
MONTICELLO 'Reserve' Cabernet Sauvignon
Roasted Beef Filet Tenderloin
Rosemary Marble Potatoes, Green Beans, Spinach
Wild Mushroom Port Reduction Sauce
DESSERT
MONTICELLO 'Reserve' Cabernet Sauvignon | Library Selection
Creme Brûlée Napoleon
Cinnamon and Sugar, Phyllo Dough
Caramel Sauce
Menu details discussed in advance to review dietary restrictions and preferences.
Dinner to be scheduled on a mutually agreeable date. Minimum 3 weeks advance.
Private Dinner with Winemaker Chris Corley | Monticello's Dining Room | 8 Guests
Offered at the Special Fourth of July Price of $1776 for a group of 8!