March 11, 2009 | First Category | Chris Corley
Drifting Into the Ether ...
I'm pretty good at getting carried away. When I was younger, it got me into a lot of trouble, but I sure had a lot of fun. Over the years, I'm figuring out how to ride that drift to a positive endpoint. During blending trials, my favorite place to be is in the dark - that is, with my eyes closed and both my thoughts and the wine swirling in my head. It's the most imaginative place to be and the best place for me to find both the good and bad in a given wine.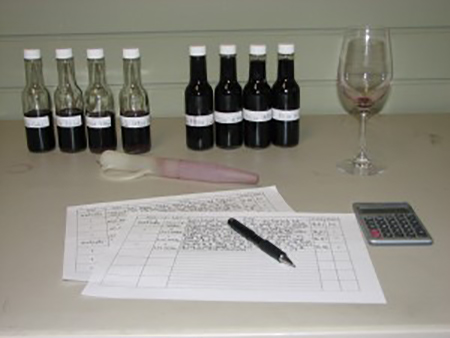 Blending is one of the more magical aspects of making wine. It is one of the moments in the winemaking process that you can let your thoughts soar and experience the wine on a truly hedonistic level. For a brief time, you can see the wine as brilliant portrait in your mind's eye or listen to it as a symphony in your mind's ear. You can feel the wine as a silken flower on the fingertips of your imagination and dance with it on the winged heels of your dreams. If the canvas is a bit frayed, the orchestra is a little out of tune, or the flower slightly wilted, this inner sanctum is usually where the answer can be found.
I don't allow myself to go off the edge, though. When tasting, I like to drift as far as I can, but still be able to find my way back. For me, it's important to keep lots of tasting notes, so you need to be able to translate these visceral and ethereal thoughts into language that will make sense, at least to your self, if not others. Tasting notes for me are like a anchored tether tied around my waist as I venture deep into a dark cave.
Tasting wines throughout an aging process is also a journey through time, a conversation with your future self. As I taste a wine in the first month of aging, the notes I make are a communication to my self to be responded to, perhaps 18 months later. It's interesting having this kind of dialogue with yourself. The response from the future self to the past self is in some ways simply the act of learning - a way of communicating a current experience for the benefit of a positive future action. The inner dialogue amongst the selves is the nip of a creative soul, and also the dynamo that propels us toward more answers and their subsequent questions ...