We had an exciting month at Monticello Vineyards in celebration of Napa Valley Arts in April!

---
Red Line and red wine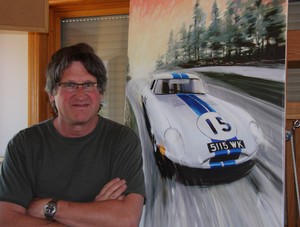 Motionsports Artist, Bill Patterson, featured his paintings during the entire month of April in the Jefferson House Cellar and even made an appearance with a live painting demonstration during our Red Line and Red Wine event on April 5.
In addition to the racing theme, Bill's friend Kevin Chong added a nice bonus to the Cellar with his glass blown art display.
For more information on Bill Patterson, click here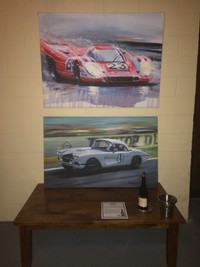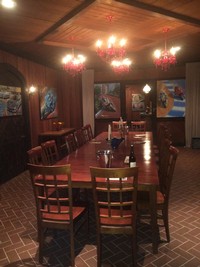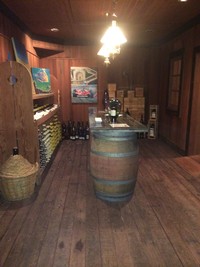 Artists Meet and Greet Reception, April 5, 2014, 3 pm – 5 pm
To kick off the event, we hosted a reception to learn the art of painting red line and the art of making red wine! Guests were greeted in the courtyard by the talented local musician, Michael Belair, along with a glass of Montreaux Brut sparkling wine. Bill Patterson and our Winemaker Chris Corley mingled with racing fans and wine enthusiasts during an afternoon of sipping Monticello wine and enjoying small bites catered by Fume Bistro. For those who missed out, you still have another week to view the art on display!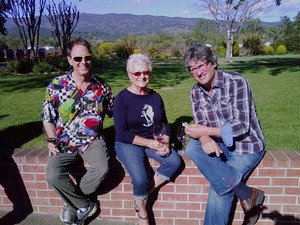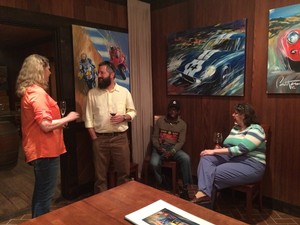 ---
bASH
April 19, 2014, 6 pm – 8:30 pm
This past weekend, Monticello Vineyards partnered with Sweetpea Catering and Private Chef Services at the Culinary Institute of America at Greystone for the 3rd Annual food and wine pairing competition. Thirty-three wineries from Appellation St. Helena (ASH) paired up with either a restaurant/caterer/chef or a CIA student for a delicious taste-off.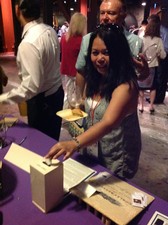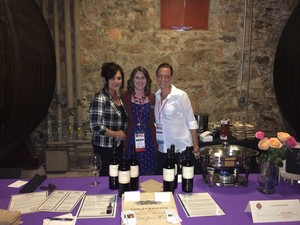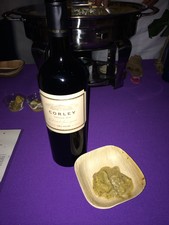 The 2010 Corley 'Yewell Vineyard' Cabernet Sauvignon paired with Jeanna DeMarco's "Monticello Braised Shortrib with Black Pepper Cream Sauce and Pumpkin Seed Pesto" won First Place in the restaurant/caterer/chef category.
Thank you for all of our cheering supporters and coin droppers!