January 22, 2023 |
Chris Corley
Many of us in the wine industry entered the business due to some level of intrigue with wine or grapes. It generally starts as a curiosity, although when nurtured properly, this curiosity typically grows into full-fledged fascination. How else can you can explain a room full of grown men that have each been in the business for between 20-40 years that are still wowed, and floored, and fascinated by opening six (very special) bottles of wine?
I recently hosted one of our top national retail accounts at MONTICELLO, and we enjoyed a simple but wonderfully thought provoking and entertaining tasting of our library wines. It's so much fun to taste with a knowledgable and curious group, and we worked our way backwards through forty years of MONTICELLO history, in five year increments.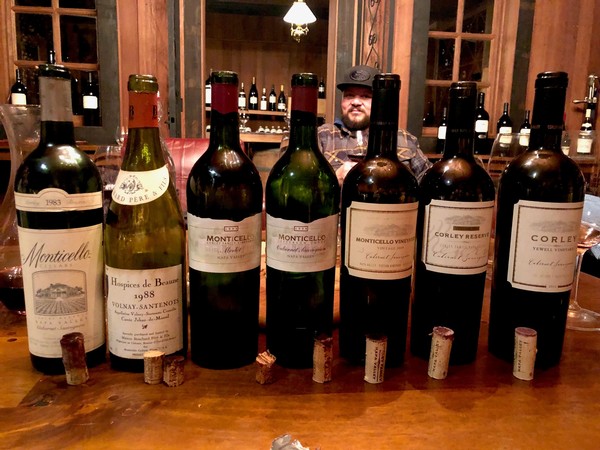 Here are some highlights from the evening ...
2013 MONTICELLO
'Corley' | Cabernet Sauvignon | Yewell Vineyard |
St. Helena
We've been making wine from the Yewell Vineyard on Ehlers Lane in St. Helena for a little over forty years. 2013 was one of my favorite vintages in the last decade, producing wines of exceptional depth and structure. When we opened this wine, everyone remarked on the deep, vibrant color of the wine. The dark red and black berry, cassis aromas filled the glass, with a light beam of mocha and vanillin oak on the nose. On the palate the wine was youthful, vibrant, with dark fruit, and it was very clear that this is a wine that is going to age gracefully for another 30 years.
Drink Now Through 2053.
2008 MONTICELLO
'Corley' | Cabernet Sauvignon | Tietjen Vineyard |
Rutherford
Hugh Tietjen and Pat MacDonald, owners of Tietjen Vineyard have been family friends and active participants at MONTICELLO since the founding of the winery. Their vineyard consistently produces some of my favorite wines each vintage. Even though this wine was 5 years older than the first, everyone remarked on the deep purple color of the wine, and the rich, youthful fruit aromas. At 15 years, this wine is exhibiting a lot of dark primary fruit, but is also just starting to show some wonderful tertiary character on the nose. On the palate, this wine is like velvet, so smooth. This wine will continue to develop for another 15-20 years.
Drink Now Through 2043.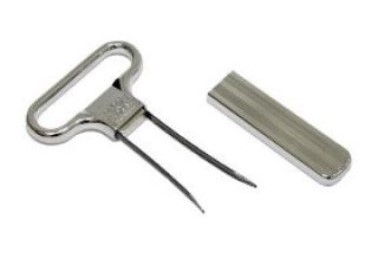 2003 MONTICELLO 'Corley' | Cabernet Sauvignon | Reserve | Napa Valley
Our 'Reserve' bottling is the flagship bottling of any given vintage. Working our way backwards, this was the first blended appellation wine of the evening, and also when we pulled out the decanter and the
ah-so
. This wine had a wonderful melange of light to medium spicy red berry on the nose, with hints of mocha and coffee. On the palate, this wine was as smooth as silk, with tannins that were wonderfully resolved, and just melted on the back of the palate. Delicious, and still alive.
Drink Now Through 2033.
1998 MONTICELLO
'Estate' | Cabernet Sauvignon | Jefferson Cuvee |
Napa Valley
Our MONTICELLO 'Jefferson Cuvee' has always been blended with Merlot and Cabernet Franc, and since its first vintage has been produced in a serious, yet easy-drinking style intended to be a little more approachable in its youth. Given that intent, we were all very pleased to see how robust and vibrant this wine is tasting at 25 years old. This wine had plenty of primary berry fruit on the nose, and just a hint of spice and oak, since we're a little lighter with the new oak in this wine. Wonderfully balanced with some years still to go!
Drink Now Through 2028.
When I pulled out a 30 year old
Merlot
, everyone was certain that our run of stellar bottles might hit a snag. This was the first cork to give us any pushback, but it came out in two clean pieces with our ah-so. As the wine was pouring into the decanter, we were all impressed with the vibramcy of the color, no fading at all. With a little bit of breathing, this wine opened up to the most beautiful fruit aromas, with light berries and floral tones. On the palate, the wine showed a wonderful brightness, a hallmark of our Oak Knoll District wines grown in this cooler southern end of the Napa Valley. A good reminder to all winemakers and wine lovers how important balanced acidity is in wine, especially when aging for the long run.
Drink Now Through 2028.
This was an amazing wine, the only wine not produced by MONTICELLO, but with a compelling backstory anyway. Jay Corley, our dad and Founder of MONTICELLO, purchased this wine about 30 years ago at the famed Hospices de Beaune auction in
Burgundy, France
. It was specially bottled for MONTICELLO, and actually references our winery on the label. This was a stunning example of the ageability of well-grown and well-made Pinot Noir. Still showing light berry fruit on the nose, with hints of clove, cinnamon, spice, this wine glided across the palate with just the slightest beam of acidity to remind us it was still singing! Beautiful!
Drink Now Through 2028.
1983 MONTICELLO 'Corley' | Cabernet Sauvignon | Reserve | Napa Valley
We finished our historic walk down Memory Lane with our Reserve Cabernet Sauvignon. Just the third vintage produced at the young MONTICELLO winery, this wine displayed the full potential of Napa Valley Cabernet Sauvignon. Spicy tones, red berry and dried floral tones on the nose led into a wonderfully balanced texture on the palate from front to finish.
Drink Now Through 2028.