June 3, 2009 |
Chris Corley
Posted By : Chris Corley
Note : As a small family owned and operated business, we hold our staff in very high regard. They are our extended family. We have several staff members that have been with us for 25 years, and many that have been with us more than 10 years. This current series of blogs will introduce our staff members, from all different departments, whom we are so proud to have working with us.
RODOLFO CUEVAS, ASSISTANT WINEMAKER
Rodolfo has worked with Monticello for nearly 20 years. He began with us working in the field around 1990. Rodolfo spoke little English when he started at Monticello. After four seasons in the field, Rodolfo expressed an interest in shifting over to the cellar. Our winemaker at the time, John McKay, provided Rodolfo with the opportunity to work in the cellar, and Rodolfo has been working in the winery every day since.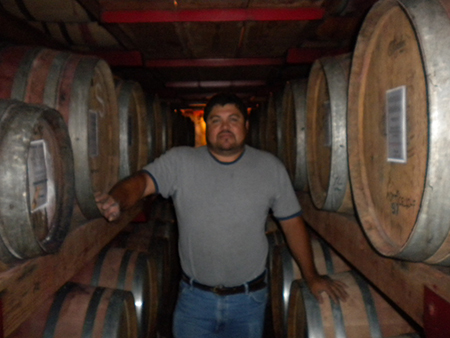 Over the last 16 years in the cellar, Rodolfo has consistently improved his cellar and winemaking skills. Rodolfo has gone from working in the field and speaking little English to managing our cellar and production staff, overseeing the bottling line, interacting with custom clientele, running lab analysis and generally helping out wherever necessary. There was a stretch of a few years in the mid 1990s when Rodolfo was responsible for our gardens at Monticello, and would spend one day a week tending to the garden. We were all impressed with his abilities and care in the garden as well. A natural green thumb. And always with a smile.
From time to time, we'll have a carne asada cookout on the crush pad. Rodolfo makes some great salsas and is very talented in the kitchen as well. Away from work, he enjoys dancing, fishing and spending time with his family.
I remember when Rodolfo first started working in the cellar in 1993. We have worked together up through the ranks of the cellar, from the bottom to the top, literally shoulder to shoulder, and will share our 16th harvest together at Monticello in 2009. In all the time I have worked with Rodolfo, I have never seen him lose his temper, nor even raise his voice. He rarely misses a day of work, and is the most dependable person I have ever worked with. I'm immensely proud to work with Rodolfo, and hope that we can continue working side by side for many more years!