September 10, 2023 | Chris Corley
Winemakers Journal | S54 E9 | Harvest 2023
WINEMAKERS JOURNAL
S54 E9 | Harvest 2023
We're very excited for Harvest 2023! We can feel the energy in the air! Most of our grapes are through veraison ... when the grapes begin to soften, change colors and make the transition from berry growth to berry ripening. We typically begin our field-sampling of the grapesonce veraison is complete.
The first of our still wine grapes to come in is almost always Pinot Noir, and it looks like 2023 will not be an exception. Our Pinot Noir is currently sampling around 23 brix ... even more importantly, the grapes are still plump with softening skins, nice fresh bright berry flavors, and are displaying a great balance of acidity and sweetness when I'm chewing on them. The seeds are all brown, and we've got nicely liginified canes. These are all tangible indicators of ripeness which I pay close attention to.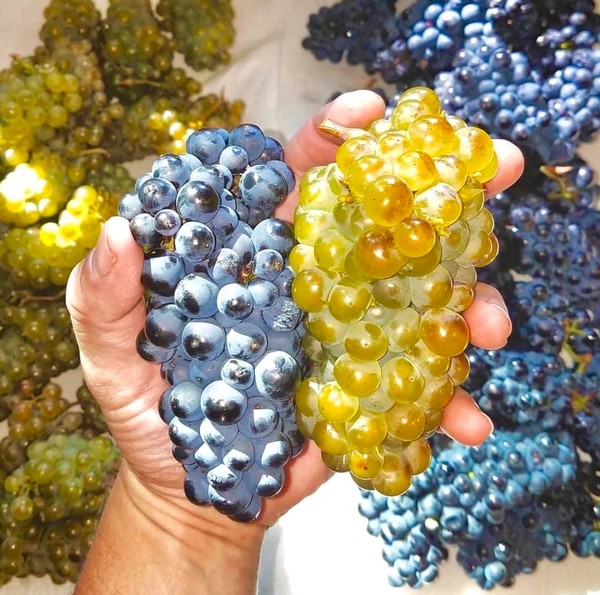 In the last few years, we've been intentionally leaving a little more fruit on the vines in order to delay the sugar accumulation, and allow for more time for ripening. When it comes to managing sugar accumulation and ripening on a grapevine, you can imagine the leaves as the gas pedal and the grape clusters as brakes. More leaves, less grapes can result in faster sugar accumulation, and less time for true ripening. Increasing the crop load on the vine, makes more work and can slow down the sugar acuumulation in the grape, allowing more time for ripening, and hopefully picking more fully ripened grapes at a lower brix, which will in turn result in lower alcohol. Winegrape ripening is an extraordinarily complex process, and this description greatly oversimplifies it, but I hope it helps to provide a glimpse of some of the considerations that I think through leading up to harvest. The 2023 winemaking program started with the first pruning cut back in March, and we're very excited to start making the transition from the field to the winery with these first upcoming picks of Pinot Noir!
Stay Tuned!