January 26, 2012 |
Chris Corley
"Guest Blog : Posted on January 26, 2012 by Ray
This is a guest blog post by Vintage Wine Taster and good friend Ray Conti. Ray and his wife recently took a trip to the Monticello winery on Big Ranch Road in the Napa Valley. They escorted two friends who own a dairy near Santa Fe, New Mexico.
Their two Santa Fe friends, Ed & Michael Lobaugh, own The Old Windmill Dairy® just outside of Santa Fe, New Mexico. They make a wonderful variety of artisan goat and cow cheeses. At a Wine & Cheese festival in Carlsbad, Monticello Vineyard's Stephen Corley approached them and indicated the winery might be interested in combining the Monticello wines with their Gouda cheeses. Monticello sent a case of their wines containing three varietals: Estate grown Chardonnay, Pinot Noir, and Cabernet Sauvignon.
About Monticello Winery
Monticello is a small winery by Napa standards (15,000 cases), but their quality makes up for the small quantity. Jay Corley founded the winery in 1970 and today sons Kevin, Stephen and Chris Corey are operating the winery. Kevin oversees the operation, Stephen is in charge of sales, and Chris is the winemaker. The winery lies just above the town of Napa. It is on Big Ranch Road that can be accessed from Oak Knoll Road. They have three lines of wine: Corley Reserve, Corley Family wines, and Monticello Reserve wines. Their specialties are Cabernet, Pinot Noir, Merlot and Chardonnay. The friendly tasting room is opposite a 1/3 scale replica of Jefferson's Monticello; a tribute to America's first serious wine collector. This is a fun place to start a wine tour of the Napa Valley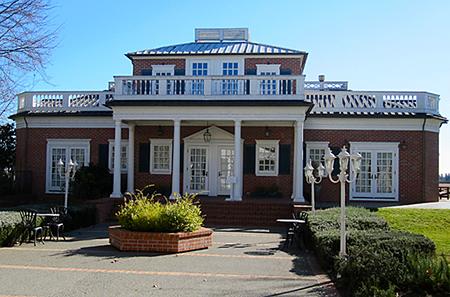 Monticello Vineyards
About the Cheese Project
This is the process used to infuse the Monticello wines into the Gouda cheese. After the initial stages to develop the curd from the cow's milk, the mixture is pressed into wheels. After 12 hours the cheese hardens sufficiently it is removed from wheels and is transferred to a vat brine mixture of wine, salt and purified softened water. After several days the cheese is then removed and dried on a rack at room temperature. All these steps are done by hand and the length of time is determined by how the cheese feels to the touch and how it tastes and smells. Once the cheese develops an oily dark surface, it is hand waxed with a clear wax and than a dark red wax. After the wax is dry, the cheese is transferred to an underground cellar and aged at a temperature of 54 degrees Fahrenheit. The Monticello cheeses were aged for 60 days. The flavor results in a moister, creamier yet mild flavored Gouda. When aged for approximately 5 months, the cheese will develop a more robust flavor. Each of the Monticello wines will create a very different flavor in the Gouda cheese.
This is an ongoing project with much experimentation to get the perfect wine-flavored Gouda cheese. Ed & Michael Lobaugh are eagerly waiting to see what the Corley family thinks of this young batch of Gouda. The hope is that the project will result in cheeses the Corely family will want to feature in their tasting room and possibly sell to Napa Valley restaurants. We will be sure to get back to you when the results are in and indeed if this Gouda is available for sale.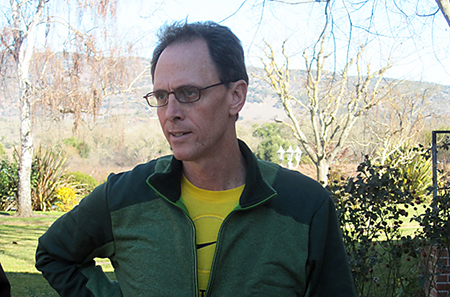 Kevin Corley - Monticello Vineyards
"