April 30, 2020 |
Wine Educator
As we all spend more time at home, we are having fun experimenting with food and wine pairings. The famous British wine writer Hugh Johnson once said that "wine carries geography with it, so wine drinking can be a great way to travel, especially when one has to stay home".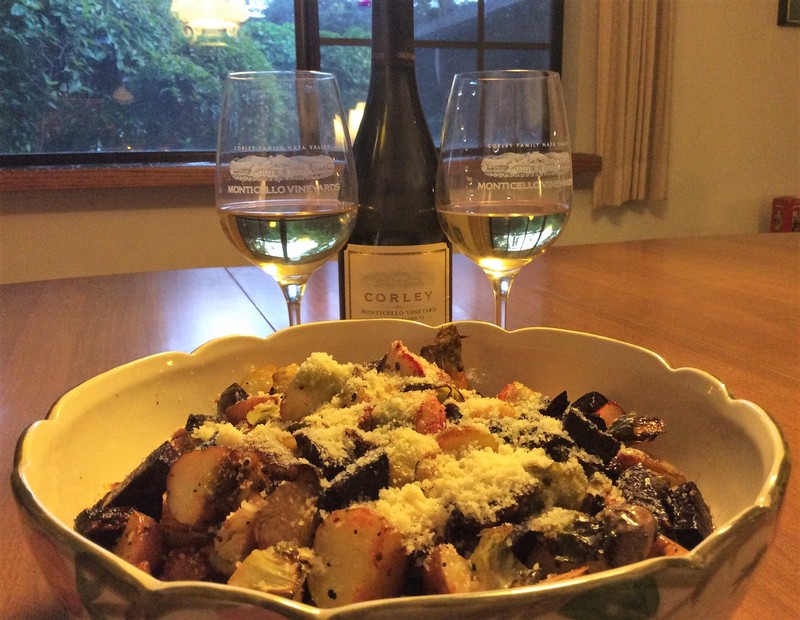 By: Pawel Cetlinski, Wine Educator at Monticello Vineyards for 2+ years
Beets and wine? Sounds odd or even contradictory. In the USA, we have come to see beets featured more and more in restaurants, often served with salads or cheese. Now is an opportune time to serve them with wine! This food and wine pairing I hope provides inspiration to put the wholesome veggie back on your plate. It's a scrumptious mesalliance!
Where I come from, which is Poland, beets are one of the staples of our cuisine - like in many Eastern European countries. Any Polish grandma would roll her eyes when seeing beets sold in organic aisles as some kind of superfood. While Poland is definitely not a wine country, there are some German-influenced wineries of the southwest. I have experimented with paring Polish white wines and foods, including beets in the past. Nothing compares to the CORLEY Chardonnay and this beet recipe.
My wife, a native of California who lived in Poland for 10 years and also a long time friend of the Corley family, invented this simple recipe that combines a mix of European veggies, and it is a perfect match for the gorgeous 2018 CORLEY Chardonnay from the tiny Block III behind Monticello's Jefferson house. (Come visit us and I'll be happy to show you the actual block!) The acidity of food and wine pairing is the key. Beets provide sweet and acidic flavors which, combined with salt, are a perfect match for a balanced fruity wine. The meticulously measured "butteriness" of Corley Chardonnay works like honey in the dish!
Wine Beets or "Scrumptious Mesalliance" Recipe
Get ready for a journey of flavors throughout Europe. We begin our food travels in rural Poland with sweetness and a hint of sourness - grab some beets. Next, we fly to the capital of Belgium and add brussels sprouts, (Yes, the name comes from the fact that they were cultivated in Brussels.) The burssels sprouts add a touch of bitterness - just like hops in Belgian beer - as well as the crunchiness of Belgian fries. Fly to Ireland to add the potatoes, the core of the dish. However, potatoes were brought to Poland by an Italian Queen Bona Sforza, so for the final touch we have to sprinkle a healthy amount of grated Parmesan cheese on top. From the shores of Europe, we fly to California's Monticello Vineyards (that's a long flight) for the wine pairing. Our superb fruity Chardonnay boasts flavors of apple, pear, citrus, and a touch of vanilla. It's like adding butter to finish your dish.
Ingredients
Bottle of 2018 CORLEY Chardonnay, Block III | Clone 95 (for wine pairing)
3 medium sized beets
1.5 lb of small potatoes (ideally Potato Mini Medley)
1 lb of brussels sprouts
Trader Joe's "Everything but the Bagel Sesame Seasoning Blend"
Olive oil
Grated parmesan cheese
Spices: Pepper, salt
Bacon bits (optional but suggested)
Directions
Preheat the oven to 385 degrees F.
Wash all of your veggies throughly.
Slice off the bottom ends of the brussels sprouts and chop them into quarters.
Peel and dice the beets. (The smaller size helps them cook thoroughly.)
Wash and dice the potatoes. (No need to peel.)
Spread veggies onto a large baking sheet (suggested 12'' x 18'').
Drizzle olive oil over the veggies. Mix carefully on the baking sheet. Be sure olive oil covers all the veggies.
Season generously…
Bake for 40 min.
Before serving, sprinkle with Parmesan Cheese and bacon bits (optional)
Enjoy! Na zdrowie!
One of Thomas Jefferson's great friends was a Polish general Thadeus Kościuszko, whom Jefferson called "The Purest Son of Liberty". I wonder if Kościuszko and Jefferson had beets and wine together…