October 19, 2011 |
Chris Corley
"Posted By : Chris Corley
We're navigating our way through a very interesting growing season. Navigation as opposed to destination is a theme we'll revisit in posts later in the season. At this stage, we've got all of our Pinot Noir harvested, fermented and pressed. I'm very excited about the quality of the wine we have in barrel. Careful sorting in both the field and on the crush pad delivered immaculate fruit to the fermenters. The slower pace of this vintage so far has been really nice as well, allowing us more time than usual to belabor over the details.
One detail that we monitor daily is brix and temperature of our fermenting batches. On average, I figure our enologist Mark measures about 50 brix readings over the course of a crush day. Over the course of two months, thats 3000 brix readings a season for him. This is his sixth vintage with Monticello, so he's likely run something in the neighborhood of about 18,000 brix readings in our cellar. He's pretty good at spinning a hydrometer.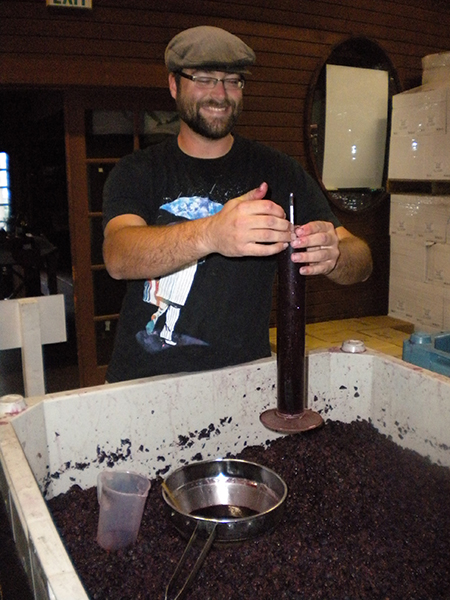 Mark & The Amazing Spinning Hydrometer
Despite all the advances in technology and science related to winemaking and enology, we still rely on some pretty simple concepts to track our wines on a daily basis. Our measurement of brix is done with a hydrometer. This is a simple enclosed and vaccum sealed hollow glass cylinder which floats in the fermenting juice. The heavier (or denser) the liquid is, the higher the hydrometer floats. The lighter (or less dense) the liquid is, the lower the hydrometer sinks. The hydrometer is gauged so that you record the level it floats at and monitor the fermentation thusly. The weight of a liquid is sometimes referred to as its 'Specific Gravity'. Clearly, the monitoring of our ferments is of grave importance to us.
Freshly crushed grape juice is pretty thick. It usually is about 24-25 brix (roughly 25%) dissolved sugar. Finished fermented wine is much lighter than the juice it was fermented from. This is because alcohol weighs less than water. Accordingly, the hydrometer floats high in grape hjuice and sinks low in wine. We can monitor within about 1/2 brix (1/2%) range the progress of the fermentation simply by spinning this little device in a cylinder of the fermenting juice. The reason we spin it is to pull off any CO2 gas bubbles that may form on the cylinder and cause it float higher in error. Mark usually spins with his thumb and forefinger in a clockwise direction. We've wondered recently if he would need to spin counter-clockwise if we were working in the Southern Hemisphere (apparently things go in the other direction on that side of the rock. Maybe we'll plan a trip someday down under to investigate.
All that said, really all we're doing is floating a tube in the juice, using the same concept as the hydrometers we made from plastic pipes inhigh school science class. Simple, but specific gravity.
Although there is a lot of technology and some pretty complex ideas related to winemaking, much of it is based on basic concepts and attention to detail. I think much of life is the same. Seemingly complex systems usually can be condensed to a simpler core concept. Not unlike your enjoyment of our Monticello wines. There are lots of ways to banter about wine, with exotic lingo and wild metaphors. At its core, it really just boils down to 'Yum' or 'Yuk'. We hope you experience the former with Monticello. What are simple descriptors you use to talk about wine that are meaningful to you?
Next Post : An Ebullient Pinot Noir"