September 29, 2023 | Chris Corley
Dueling Pianos at Monticello!
MONTICELLO | Napa Valley
S54 E9 | Dueling Pianos!
Friday, October 6 | 6:00pm
We still have some tickets left for this Friday's show at MONTICELLO! This the third and final show of the season!
CELLARPASS PRESENTS
DUELING PIANOS AT MONTICELLO!
Are you looking for an extraordinary night of entertainment that combines music, laughter, and the magic of Napa Valley? Look no further than CellarPass' Dueling Pianos at Monticello Napa Valley! We still have some tickets available for this one-of-a-kind event, which promises an unforgettable experience that will leave you with cherished memories for a lifetime!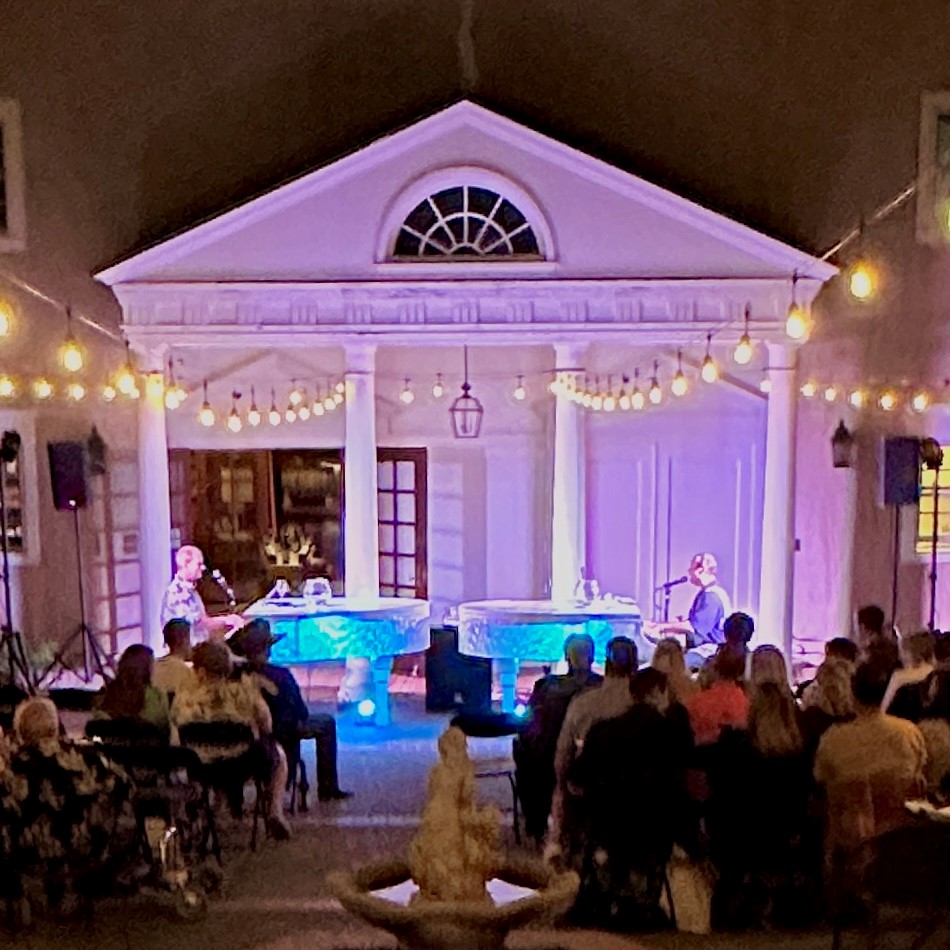 The Dueling Pianos Experience!
Dueling pianos are not your ordinary concert. They create a lively and interactive atmosphere, inviting the audience to become part of the show. Talented pianists engage in a friendly musical battle, taking song requests from the crowd, playing everything from classic hits to modern favorites. With spontaneous sing-alongs and a high level of audience participation, you'll feel like you're a part of something truly special.
The Scenic Monticello Napa Valley Venue!
The setting for this spectacular event couldn't be more perfect- surrounded by vineyards and under the stars! Nestled in the heart of Napa Valley, Monticello Vineyards is renowned for its breathtaking beauty and award-winning wines. Imagine enjoying the stunning views of the vineyards, the picturesque landscape, and the enchanting sunset while tapping your feet to the rhythm of the pianos. This unique combination of delightful music and stunning scenery creates an ambiance that is simply unparalleled.
Unforgettable Memories with Friends and Loved Ones!
Attending CellarPass' Dueling Pianos at Monticello Napa Valley is an ideal way to create beautiful memories with your friends, family, or loved ones. The joy of singing along to favorite tunes, dancing to the beat, and laughing together as the pianists entertain is a bonding experience like no other. Whether it's a special celebration or just a night out with loved ones, this event will undoubtedly leave a lasting impact on all who attend.
CellarPass' Dueling Pianos at Monticello!
Napa Valley promises an evening of music, fun, wine, and camaraderie in a setting that is second to none. From the magical atmosphere of dueling pianos to the breathtaking beauty of Monticello Vineyards, this event is truly one for the books. Don't miss out on this chance to create lasting memories with your loved ones while supporting a worthwhile cause. Purchase your tickets now and get ready for an evening that will be etched in your heart forever!