January 10, 2012 |
Chris Corley
Posted By : Chris Corley
We're currently in Costa Rica and have enjoyed a nice week in Playa Pochote, which is considered a town here, but really is more like 100 or so locals that live near each other and a campground where the 'ticos' from San Jose come to beach camp for the weekend. The local services in ""town"" include a payphone.
I had zero expectation of finding any local wines in Costa Rica, so didn't even think much about it. I was ready to spend my time guzzling Imperial lagers in the sun and looking forward to the fresh fish. To my surprise, when we went to the little village market in the next 'town' called Tambor, the fellow in the store directed towards the the surprisingly well stocked wine aisle, where I found several Costa Rican wines.
It struck me at that moment, that my subliminal notion of wine automatically referenced my own experiences, that is grape wine. There were actually shelves full of all sorts of local wines - fruit wines - pineapple, orange, and grapes too. My interest in traveling is in tasting the local efforts. I didn't come all this way to drink and eat things I can get at home. So I loaded up a few bottles of the local wines and headed home, excited to taste these wines.
Please keep in mind, I'm a winemaker, not a critic nor a winewriter. I'll just stick to describing rather than critiquing. At these wineries in Costa Rica, no doubt there are a group of people of that are trying to do the best they can with what they've got, and I have no interest in disparaging their or anybodys efforts, regardless of the results.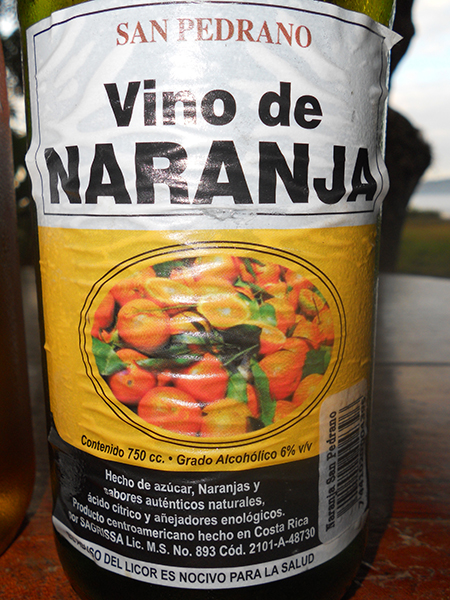 SAN PEDRANO 'VINO DE NARANJA' - I'm not really sure what I was expecting before tasting wine made from oranges, but I was a little surprised when I poured it in the glass and it looked like a slightly oxidized white wine. The aromas were not nearly as strong orange as I anticipated. The wine was pleasant on the palate, with a nice acidity, basically dry (no residual sugar), and was not as strong in orange flavor as I thought it would be. This wine would be a good match for a bowl of fresh ceviche on the beach, and I wouldn't be surprised if thats the way its most commonly consumed.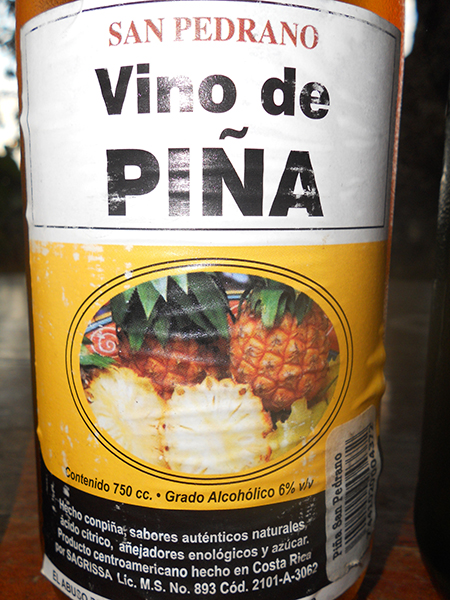 SAN PEDRANO 'VINO DE PINA' - This wine was the most enjoyable for just sipping on by itself. The aromas and flavors of pineapple were much stronger than in the orange wine. The nature of the pineapple tones kind of lent themselves to a refreshing tropical drink. The texture, just like the orange wine, was more similar to grape white wine than I was expecting. The wine was visually clean as though it had been filtered, or at least fined very well. The texture was not viscous or syrupy at all, like pineapple juice can be. Chilled, this was my favorite of the three.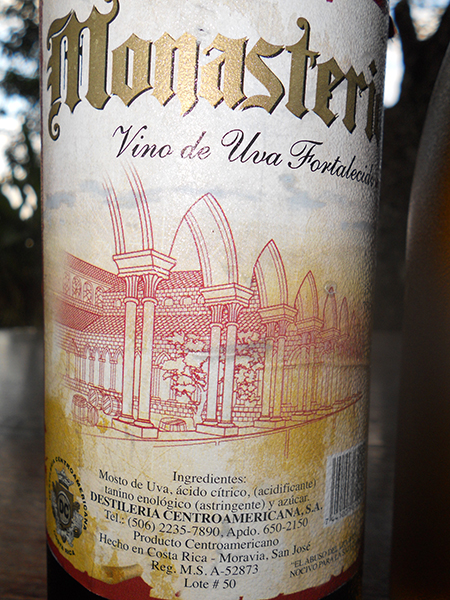 MONASTERI 'VINO DE UVA' - This wine was interesting to taste. Its the one wine we found that was actually made from grapes. It was difficult to discern any particular fruit flavor from the wine. The acidity was a little tart and out of balance, likely due to the citric acid addition mentioned in the ingredients. This was somewhat balanced by the residual sugar. This wine was interesting to taste and I think would be best served chilled and with some really spicy food.
On a completely unrelated-to-wine note, I've got take a moment to talk about some artwork that we came across here in Costa Rica. My wife, Julianna, and I have for years enjoyed collecting masks. We try to collect one at every destination, whether its an old Indian ceremonial mask at the pueblo in Taos, a cloth spiritual mask in Peru, or a simple wooden mask from Isla Roatan. They're great personal reminders of shared adventures, and if chosen well, can be very reflective of the culture. We've got a growing wall full of them in our dining room at home.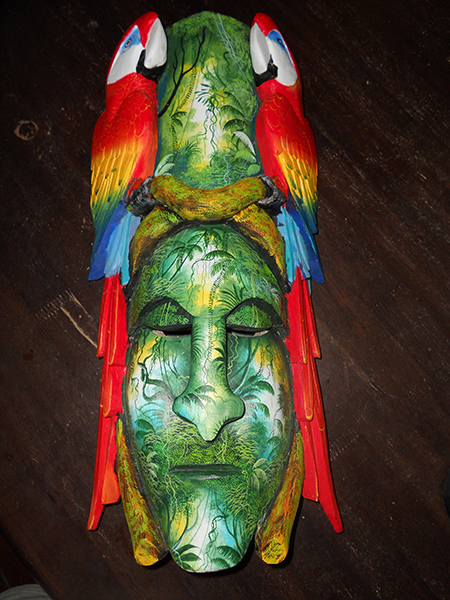 That said, in Costa Rica, we've come across some of the most ornate masks yet. They are made by the Boruca Indian tribe, an indigenous people of Costa Rica. They are carved of balsa wood, so are soft and light. The carving is very impressive, but the intricacy and vibrancy of the painting is extraordinary. The masks are carved and painted so vividly to represent the devil and originally were utilized to scare off the invading Spanish conquistadors. These are the most colorful and vibrant masks we have personally come across, and its reassuring knowing that some of the proceeds from the sales of the mask go back to help fund the preservation of the Boruca Indian culture, which there are only about 2000-2500 living Borucan Indian tribemembers on the reserve. The tribe hosts a festival around New Years, the 'Danza de los Diablitos', reenacting the war between the indians and the conquistadors. The indians win ...