March 8, 2019 |
Chris Corley
There are fourteen rows of grapevines on the southernmost side of Block 3 in The Monticello Vineyard. Originally planted about 20 years ago, these Pinot Noir vines were a primary component in our Monticello 'Estate Grown' Pinot Noir bottlings for many years. Specifically, they were a sub-designation of Pinot Noir known as Clone 115. Over the years, we always enjoyed the slightly darker berry aromas and flavors and fuller body that the wines displayed from these grapes.
As these things tend to do over decades, our vineyard blocks have evolved. With additional Pinot Noir planted in another block, we set our eyes on the aforementioned fourteen rows as a nice location for a wonderful new source of Chardonnay. Rather than tear out our beloved Pinot Noir vines for replanting, we chose to keep them in service. We cut the trunks and grafted the new Chardonnay Clone 95 onto the Pinot Noir trunks.
Grafting is a fairly straightforward viticultural technique, employed when the grower is interested in a varietal shift with minimal downtime. It requires a skilled grafter, and good seasonal timing. When done properly there is a high percentage of success.
Perhaps straightforward, and with a high rate of success, it is nonetheless really amazing. I walk through these fourteen rows regularly. I spend enough time in these vines, I should be jaded to this kind of stuff, but I'm not. I still find it incredible.
In these fourteen rows, we have vines that are themselves a mélange of plant material. The rootstocks in the ground are of American origin, so that they can resist the natural soil pests. The trunks are French, Pinot Noir Clone 115. The top of the vine, bearing the fruit, is now Chardonnay Clone 95.
Over time, these three plants have coalesced, they are now one. It takes a seasoned eye to see the graft unions. While the graft unions may be difficult to see, the quality of the wine is easy to understand.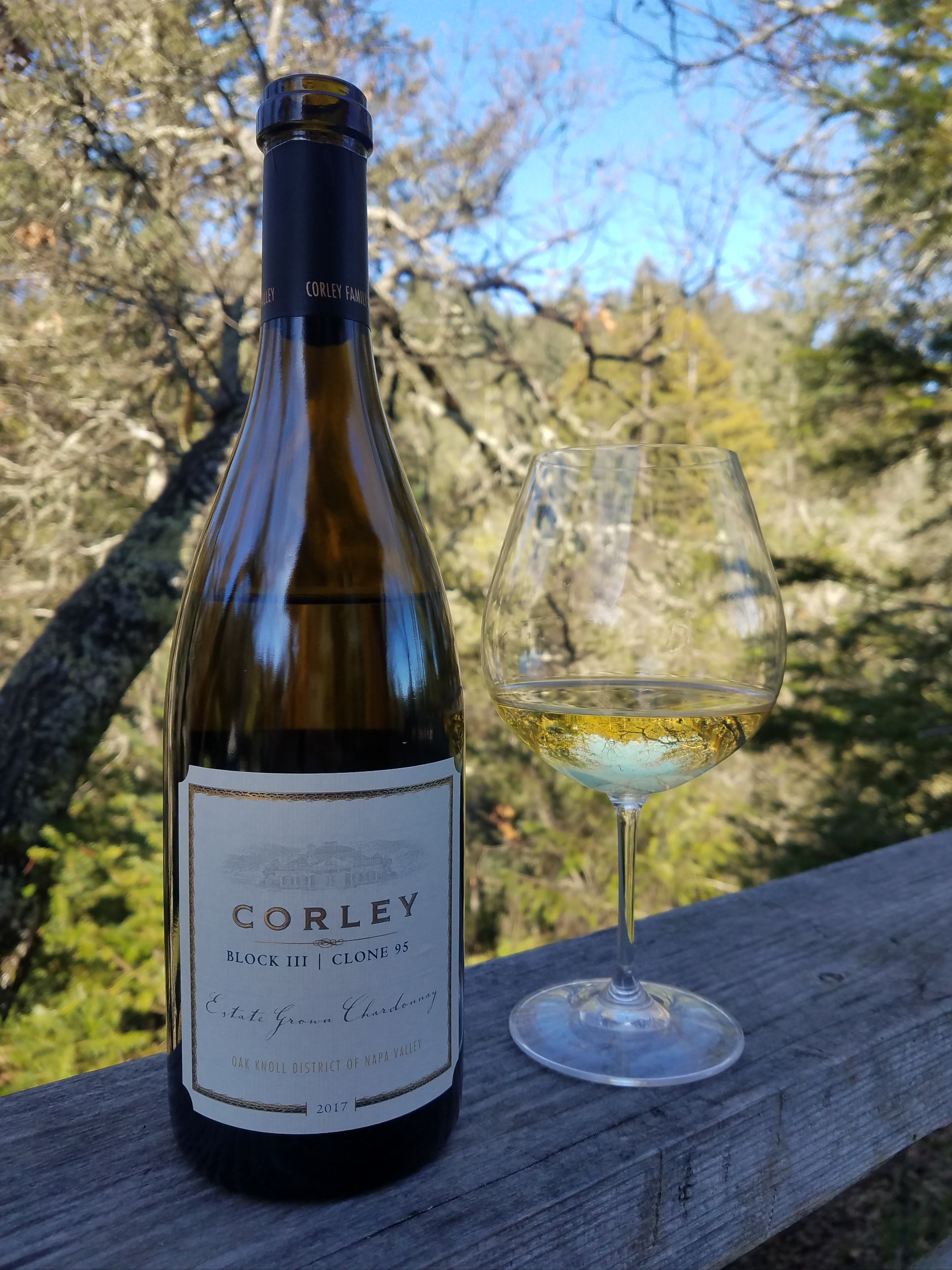 Chardonnay Clone 95 has long been one of our favorites. We grew this clone in Block 6 towards the back of the property for years. It was an easy choice for these fourteen rows in Block 3. We love the rich texture that is counterbalanced with fresh acidity. We love the tropical fruit character that is framed with nuances of citrus tones.
This month, we're excited to be releasing our CORLEY 2017 Chardonnay 'Block 3, Clone 95'. This wine is made entirely from these fourteen rows of vines. From this batch, we selected six specific barrels for the final bottling that we felt best represented this special section. The grapes were crushed and soaked on the skins for eight hours prior to pressing into barrels for fermentation. The skin soak is an old-school nod to our winemaking techniques that were in place in 1990 when I started working in the cellar. Soaking the skins helps us to extract more aromas, flavors and textures prior to pressing the juice for fermentation. Fermented and aged in barrels for 10 months prior to bottling, we're very excited to be releasing and sharing this wine with you.
This wine has wonderful and expressive aromas of tropical fruits like mango, melon and fig. These are balanced with light citrus tones. There is a light creaminess and a hint of butterscotch from the French oak barrels and partial malolactic fermentation. On the palate the wine is rich, with a light beam of fesh acidity.
Chris Corley, Proprietor | Winemaker