July 4, 2019 |
Katie Corley
As you can tell over here at Monticello Vineyards, we have an affinity for our third president.
Thomas Jefferson was not only a founding father but also America's first great connoisseur. Food and wine were two of Jefferson's passions. Jefferson had a way of entertaining his guests with foods and fine wine unlike anyone in his time. He can be considered the US's first "foodie" and some even call him the Father of Wine. Jefferson regularly imported parmasean cheese from Italy and popularized macaroni and cheese in the States. He was well ahead of his time when he determined that America would need to import vine cuttings from France to make truly world-class wines. His forward thinking nature with fine dining, food and wine can also be displayed through his visions of the future of the United States captured in the Declaration of Independence. Thomas Jefferson was just 33 years old when he drafted the Declaration.
Jay Corley admired Jefferson's passions and honored the third President by naming the winery Monticello Vineyards after Jefferson's mountaintop home in Charlottesville, Virginia. In 1984, Jay built the Jefferson House, a very close replica of Monticello, on the Home Ranch. Lou Gerhardt, architect employed to design the Jefferson House, went to Jefferson's Monticello five times to get the real feel of the architecture. Paints were mixed together to get specific colors to match the color schemes from the era. The parquet floor in the parlor is Jefferson's own design, which is still popular today. The furnishings are reproductions from that era. The Italian ceramic light fixtures are like the one's Jefferson had. The four acres of grounds surrounding the Jefferson House are comprised of the same trees, shrubs and flowers Thomas Jefferson planted at Monticello.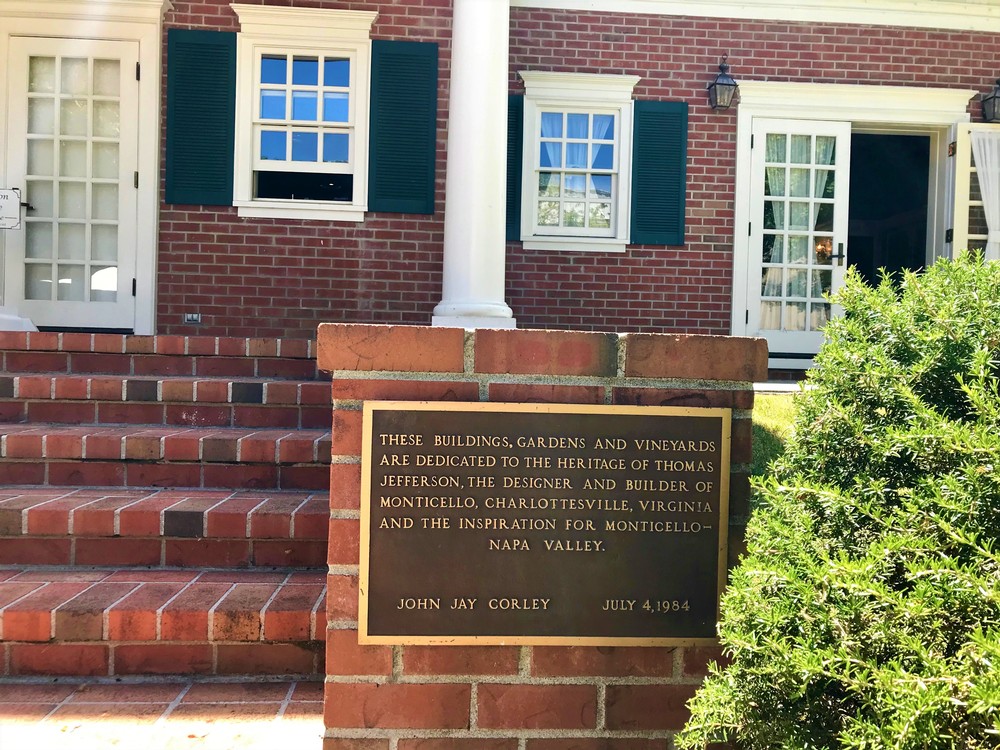 It was on this day in 1984 when the Jefferson House was completed. Founder, Jay Corley created the plaque above to honor Thomas Jefferson on this day.
From everyone at Monticello Vineyards, we raise a glass to our country and Thomas Jefferson on this day!