July 29, 2010 | Crush ! | Chris Corley
Nuts & Bolts & T & A
Posted By : Chris Corley
Every season as we prepare for harvest, we go through a lot of routine maintenance. It's one of the least romantic aspects of winegrowing, but perhaps one of the most critical aspects with the biggest benefit at harvest. For all the excitement of the harvest season, and the culinary pleasure and enological thrill derived at countless dinner tables from ours and others wines - it's amazing how dependent we winegrowers can be on relatively inexpensive thermostats, solenoid valves, little nuts and bolts and other seemingly insignificant items. A faulty thermostat in the middle of the night during the peak of fermentation could result in big fermentation problems. A loose nut could result in gondola of fruit being dropped from a forklift.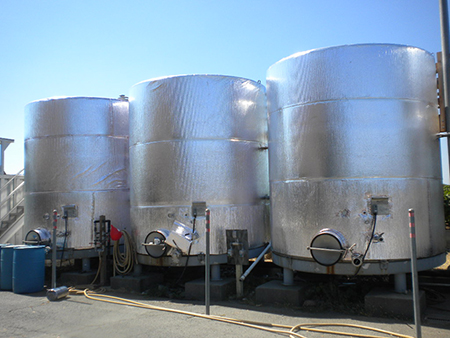 Larry, Curly and Moe
This year, in addition to the routine maintenance, we have gone through and insulated all of our outdoor tanks. I couldn't bear any longer to have Larry, Curly and Moe greet me every morning in their previous state of undress. it was time for them to put something on. This has been on my mind for a long time, we just have a long list so got to it this year.
Insulation is obviously very effective. No news there. Our empty tanks used to sit in the sun at 25 degrees above ambient temperature. Now those same empty tanks sit at ambient temperature. As a result of the insulation, we've opened up approximately 70,000 gallons of outdoor summer tank storage that was not previously an option. We'll use less electricity and our glycol cooling system will decrease in hours of operation.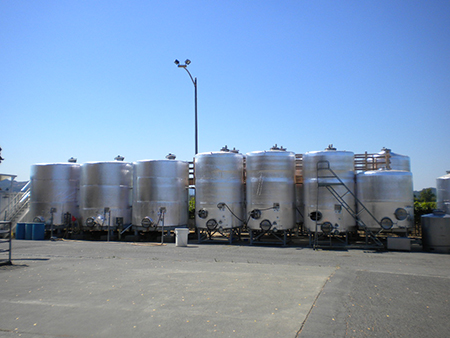 North Tank Pad
Last year, we were able to observe some concrete tanks in use that were at our facility. I had anticipated that these tanks would be very well insulated due tot he thickness of the concrete. I was surprised at how easilt they lost their natural heat during fermentation, and how much energy we needed to put into heating them. The resulting wine was great anyway, but the tanks performed mechanically differently than I had expected. I'm interested to see them in action again this coming vintage to learn more about them.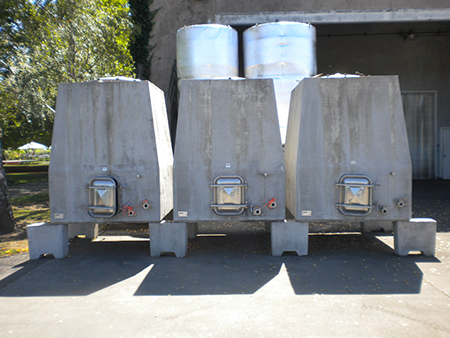 Concrete Tanks

I'm pretty excited about the insulation and think it looks pretty cool too. I'm kind of thinking of wrapping everything at the winery in this silver bubble wrap. Kind of like the artist Christo who does the wrapping installations of major architecture. Maybe. Maybe not. Probably we'll just enjoy our warm tanks in the winter and the cool ones in the summer, and enjoy Christo's art from afar.