December 5, 2010 | First Category | Chris Corley
Pioneers
This past week I had a chance to visit the Kennedy Space Center at Cape Canaveral, Florida. This was a highlight of our family trip back to Florida to spend Thanksgiving with family. My 6 year old son and 5 year old daughter were enthralled with the 3D Imax movie of the International Space Station, the simulation of the launch in the control room, and the opportunity to walk underneath the massive Saturn V rocket mounted overhead. The experience was a lot of fun for all of us, and educational as well. After spending the day at the Space Center, the kids had been introduced to a whole new world in a very meaningful way, and my wife and I had a deeper understanding and appreciation for what theses brave and creative men and women did back in these early days of the US space program.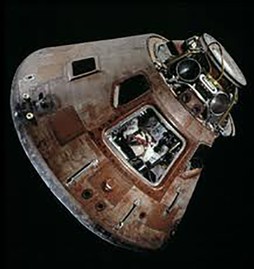 APOLLO 11 COMMAND MODULE USED TO LAUNCH ARMSTRONG, COLLINS, AND ALDRIN TO THE MOON IN THE SUMMER OF 1969.
Most all of us are familiar with the widespread images of the first lunar landing of Apollo 11 and the famous words of Neil Armstrong upon placing mans first foot on the moon. What I have a much better appreciation for now is the unbelievable efforts of all the men and women that led up to that historic moment. There were many flights to test systems and equipment, some more successful than others, some resulting in fatality.
My immediate reaction to seeing the actual capsules and the massive Saturn V rocket (longer than a football field) used to launch them into orbit was that these guys were absolutely out of their minds to strap themselves into these things and blast themselves out of our atmosphere. I still think they were out of their minds. But they were also courageous and honorable men and women, striving to learn more about a new frontier. What a fantastic opportunity and honor for a talented and curious pilot to be accepted into the space exploration program. And it is not just a self-serving motivation of adventure. These brave men and women paved the way for the future International Space Station and Space Shuttle missions that advance science by means of the experiments that can be conducted out of our atmosphere.
In July of 1969, Neil Armstrong, Michael Collins, and Buzz Aldrin were shot into space on the Apollo 11 mission to the moon. It must have been an extraordinary event to observe and follow at the time. My dad, Jay Corley, was 38 at the time, a year younger than I am now. What a thrill for him to follow this adventure. These brave men representing a curious mankind leaving their home planet to travel to the moon. They were to investigate the surface of the new region and collect soil and rock samples for further study.
That same summer of 1969, Jay Corley was readying for a launch of his own. Driven by a similar curiosity, he was preparing to launch from his home to the north. He also intended to investigate the surface of a re-emerging region called Napa Valley and to collect rock and soil samples for further study. As did Apollo 11, my dad had a safe mission, was encouraged by the results of his rock and soil samples and planted his flag in the Oak Knoll District of Napa Valley. My brothers and I are proud to carry on his tradition and fly the flag that he planted on our property over 40 years ago. The result of those early missions and subsequent efforts is Monticello Vineyards.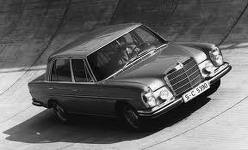 REPRESENTATION OF THE GERMAN-BUILT COMMAND MODULE USED TO TRANSPORT JAY CORLEY TO NAPA VALLEY IN THE SUMMER OF 1969. TESTING ON TRACK PRIOR TO LAUNCH.
In the same way that the early astronauts, engineeers and technicians paved the way for future generations to appreciate and strive to learn, so has my dad and all the other vintners that were planting vines in Napa Valley 40-50 years ago. As young vintners, we owe a lot to this previous generation, and I try to say thank you at every opportunity. When you're a kid, you believe that your dad is a superhero, he may as well wear a cape. I've got my own kids now and would be humbled and honored if they felt the same way ... but I still kind of feel that way about my dad, especially when I indulge myself with the time to reflect on his accomplishments. I hope that my generation can contribute as much to the generational dialogue as those before us. They were pioneers in their own right."