April 18, 2011 | Happenings, Tasting Wine | Chris Corley
Pulling the plug on a wine in Brooklyn
"We were in Brooklyn a few weeks ago visiting our wine broker and spending a few days with my wife Julianna's sister, Joy, and her husband, Noureddine. Depending what airline we fly, we either check our wine (Southwest - bags fly free) or we send it ahead (all others). This time, we shipped several cases ahead (it cost the same to ship as it would to check, so may as well let the shipper lug it around!). It's nice to have wine ready for you upon arrival, and we were looking forward to some great bottles during our trip. Approximately a third of the wines we took to taste with our broker, but we also had plenty of nice wines for drinking, including plenty from other producers (we don't just drink our own stuff all the time!)
On our first night there, I was craving a big fat glass of red wine after a long day of family travel, and was almost salivating on the way from the airport, just thinking about popping a cork. We pulled out our first wine, and to my great disappointment, the wine was corked. It wasn't terrible, but it definitely had that familiar wet cardboard, aquarium gravel kind of smell that I just can't get out of my head once I smell it.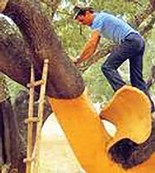 Cork taint is a topic that we as an industry pay close attention to. It can arise from the combination of wood product, moisture and chlorine. The offending molecule that raises the stink is called trichloroanisole (TCA). A lot of corks (wood) used to be sanitized (moisture) in chlorine based washes (chlorine), an malevolant olfactory trifecta. A winery could have a systemic problem with TCA. Many older wineries were stick-built (wood), are humidified (moisture) and historically used chlorinated tri-sodium phosphate (chlorine) as a sanitizer. Most wineries and cork producers have moved on from chlorine to other forms of sanitizers. We stopped using chlorine-based cleaners years ago, and keep our cellar relatively dry to avoid having too much moisture creating mold in our cellar.
Back in Brooklyn, we had plenty of other bottles to open, so we did, and we moved on, but it kept bugging me, and we had a fair bit of conversation about the corked bottle. I remembered reading something somewhere about using cling wrap to help remove the cork taint from an afflicted wine. I'd never tried it, but why not? It was the perfect opportunity, we'd be tossing the wine out otherwise. We wadded up a ball of cling wrap and tossed it into the decanter and swirled it around and let it soak for a few minutes, then fished it out. Interestingly, our anecdotal conclusion was that it did seem to have an impact on reducing the impact of the TCA in the wine. Not a major difference, but something noticeable and positive, and what harm is done? You've got a bottle that you've put aside anyway due to the TCA, you may as well play around with it. I'll add that this 'highly scientific' test was conducted while drinking a fair amount of other wines. While traveling, we try to complement all of our activities with copious amounts of wine, including our 'scientific' tests on the road!
Cork taint is a big topic in the wine biz, and I'm just keeping it light and anecdotal this evening on The Corley Blog. For the curious, you can read a little more about TCA at http://en.wikipedia.org/wiki/Cork_taint ."