September 23, 2011 | About Us, Crush ! | Chris Corley
Four Finger Baggies
Posted By : Chris Corley
I've spent a lot of time trudging around the vineyards with little plastic baggies lately, mostly collecting grape samples and checking out the fruit as it gets closer and closer to harvest. For that matter, I've spent a lot of time trudging around vineyards my whole life, although when I was a kid, it was usually with a skateboard in hand, and with less wholesome motivations than crafting tasty beverages from pristine clusters of shimmering fruit.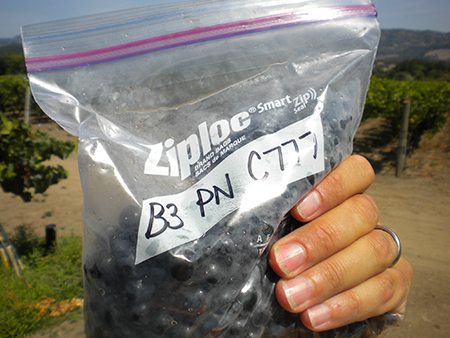 I've grown very fond of plastic baggies over the course of the last 25 years. They always seem to be oriented something that is appealing to me. Over the course of my life, I have tended to associate good things with plastic baggies. As with most aspects of life, my tastes have evolved. I used to be content with the thin sandwich baggies and would be really happy if it was two-fingers deep. Now, my tastes have shifted and I prefer the zipper style freezer quart bag. With age comes higher expectations, so I now fully expect to see four-fingers of product in my baggies. I also don't like to find herbal or green aromas in my sample baggies now, although 20 years ago, this was appealing.
As I do each harvest, I'll keep stomping through the vineyard with my baggies in hand, pulling samples waiting for that special day to pull the fruit. Maybe this year I'll drag an old skateboard behind me just for old times sake ...