November 10, 2011 | About Us, Happenings | Chris Corley
Live In The Vineyard!
Posted By : Chris Corley
This past weekend, we had the pleasure of hosting the VIP guests of the 'Live In The Vineyard' event that congregated in Napa for a long weekend of Music, Wine and Food. What a great time. Billed as 'An Intimate Pairing of Music, Wine and Food', 'Live in the Vineyard' is the brainchild of the ebullient pair of friends Claire Parr and Bobbii Hach-Jacobs. Its a unique semi-annual event that brings fans from across the country out to Napa Valley for a weekend of live music, winery visits and food & wine presentations. Check out the official website at www.liveinthevineyard.com .
We have had the pleasure of hosting two events this year at Monticello. In April, we had our guests come out to Monticello for a livefire barbeque, live winemaking demonstrations and live music. It was a wonderful experience. The smiles and enthusiasm of the guests, many who had not been to Napa Valley before was infectious and a thrill for us as hosts. The weekends concerts in April at The Uptown were also fantastic, as we got to see Lenny Kravitz, Michael Franti and Colbie Caillat among others.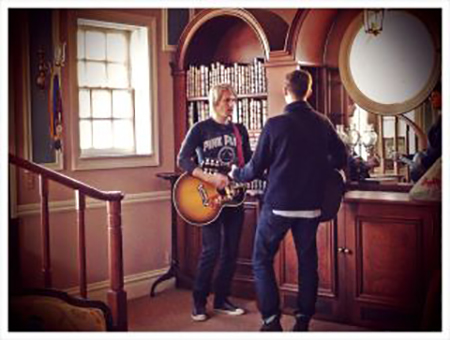 The Fairchilds Warming Up in The Jefferson House at Monticello
This past weekend, we hosted a wonderful group of people as well, VIP winners of the radio contest that brough people from afar. Chef Lisa presented seasonal 'superfood' recipes in our winery cellar oriented towards awareness of 'City of Hope' www.cityofhope.org , which is an NCI-recognized cancer research and treatment organization. In addition to our wine presentation on the crush pad, we enjoyed a live concert in the cellar from 'The Fairchilds' www.thefairchildsmusic.com , headed by Cyril Niccolai www.cyrilniccolai.com . The music sounded really great in the cellar, and it was a nice exclamation point towards the end of harvest to have a concert in the cellar. This past weekends concerts at The Uptown included Daughtry, Christina Perri and Safety Suit.
We've been presented with two Fender Squier guitars signed by all the artists from the last two LITV events ... Lenny Kravitz, Colbie Caillat, Michael Franti, Hanson, Default, Parachute, Cyril Niccolai just to name a handful. What a totally cool and unexpected treat for us at Monticello!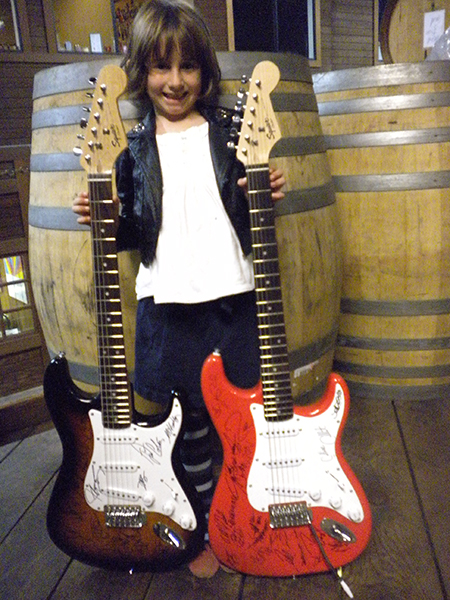 Ruby Corley, Future Wine Rock Goddess
It was lot of fun to have all the guests in from out of town. Their enthusiasm spread and was a reminder to us how fortunate we are to live in such a beautiful place, which was brightened even more by all the smiles and laughter over the weekend.