November 7, 2011 | Crush !, Harvest Journal | Chris Corley
Pinot Noir & Ebulliometry (The Science Of Vim & Vigor)
"Posted By : Chris Corley
e·bul·lient'[ih-buhl-yuhnt]
adjective
1. overflowing with fervor, enthusiasm, or excitement; high-spirited.
2. bubbling up like a boiling liquid.
We drained and pressed our Pinot Noir lots in mid-October. Now three weeks into their barrel aging, the wines are starting to shake off their youthful exuberance and are embarking on their graceful transitions into wine. In addition to continually tasting through all of the different lots, this is a time for us to run preliminary analysis on the wines. One of the numbers we run at this time is the alcohol. To do this, we use technology that is hundreds of years old and based on a simple concept. We use an ebulliometer. We boil water and record the temperature to within a tenth of a degree. Then we boil the wine sample and record to a tenth of a degree as well. The difference in the boiling points is an accurate gauge of the alcohol in the wine in almost all cases. The science of ebulliometry is appropriately named ... you might think of the results as a measure of the happy units in the wine.
We learn from teachers and books that yeast convert sugars to alcohol at a ratio of 0.595. My observations in the cellar have been that the conversion is generally closer to 0.610, so thats the number I use for my pre-harvest calculations. For example, I would expect a batch of grapes at 24.0 brix to produce a wine around 14.6% alcohol. Tracking metrics like this is helpful for us to make projections about our wines, as most of a winemakers decisions are oriented towards how a wine will taste in the future, not how it tastes right now.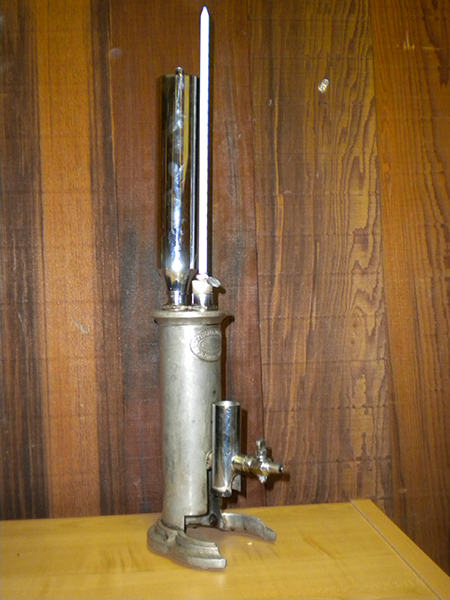 That said, and with the caveat that we constantly generate an unbelievable amount of numerical data about our wines, what really makes me ebullient is tasting them and getting to know our wines on a personal level. With the primary fermentations complete and the Pinot Noir settled down a little bit, we can begin to see the personality of the different lots express themselves a little more clearly.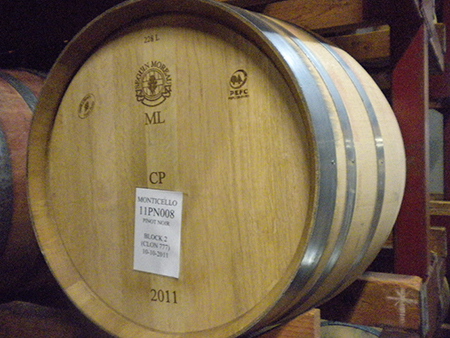 We grow four different clones of Pinot Noir on the Home Ranch vineyard which surrounds the winery grounds. Clones are sub-designations of a given varietal, generally selected for specific and positive attributes and propagated (cloned) from cuttings. Our Pinot Noir clones are 777, 667, 113, and 115. While they ripen similarly, each of these clones has a subtly different tone that is appealing and complementary. I find 777 to be ripe in redberry flavors and round on the palate. 667 tends more towards floral tones on the nose and has a lighter body. 113 generally has lighter berry tones and a little more midpalate. 115 tends to have the darkest berry flavors and a little more tannin than the others. I don't have a favorite. I like the differences in all four clones. In most vintages, I prefer the blend of the clones over any individual one.
Most of our Pinot Noir this year was picked between September 27-30 this year, almost three weeks later than what we consider 'normal'. 2011 was a wonderful year for Pinot Noir for us. We grow our Pinot Noir in a reasonably warm area for the varietal. The cooler, longer season our Pinot Noir experienced this year allowed the fruit to ripen fully, but more importantly slowly, and without the typical fast rise in sugars that we would usually experience were we to let the fruit hang that long in a warmer vintage.
In 2011, I've isolated 4 small batches of clonally designated free run Pinot Noir from Block 3 and a small batch from Block 2 as well. These wines are tasting fantastic in barrel right now, displaying loads of berry fruit and taking on the some of the nice toasty tones from the new french oak barrels that they are settling down in. I'm not sure if we'll bottle these clonal designates separately, but we might. It would be fun for our Monticello Faithful to experience these distinctive components that are the building blocks of our wines. Stay tuned ..."