January 1, 2012 | First Category | Chris Corley
My First Brazilian
"Posted By : Chris Corley
We've spent the last ten days in Brazil enjoying the holidays. This is our first time in Brazil. We've really enjoyed the people, the food and the warm December weather. We've also found Portuguese to be one of the more difficult languages to grasp. Despite having reasonable Spanish skills which serve me well in Mexico, I found myself often staring blankly when spoken to in native Portuguese, even when conducting simple transactions. The language sounds to my ears like an indecipherable mix of Spanish, French, Italian and Japanese. We didn't pack a Babel Fish either. Very few people that we have encountered speak English, and most of them were a younger generation that no doubt are taking English classes.
We've enjoyed trying the local foods and wines. One of our favorite dishes has been Baiao de Dois, which is kind of like a paella dish. Lots of rice, beans, sausage, linguica, cheese and mandioca (cassava), which is fibrous potato-like vegetable that was really good and added a nice texture to the plate.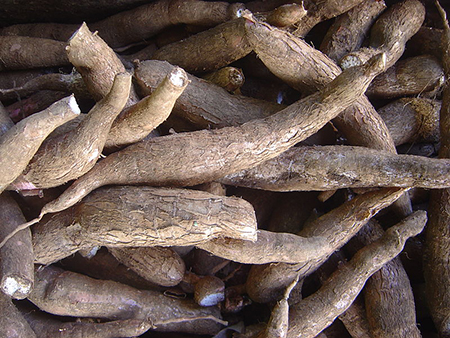 MANDIOCA
The local fruit juices have been a real treat as well. I particularly enjoyed the juices of the Umbu and Graviola, both native fruits to Brazil, which to the best of my understanding don't grow anywhere else. Both juices were white and milky in texture. The Umbu was more tart and the Graviola had a creamy tone to it. Both were very good on their own, and I imagine would be great mixers for your favorite rum.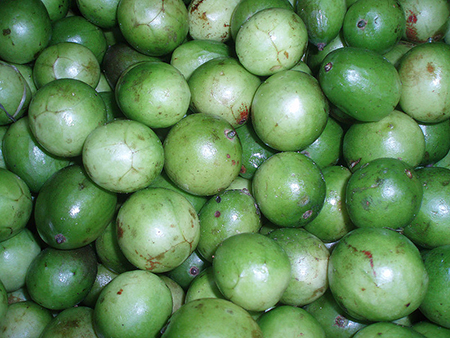 UMBU
We have also enjoyed trying out some of the local wines. There are some local wines known as 'country wines' that are primarily poured by the glass. these wines are generally lower quality and I didn't care for them. I'm also not a critic, and not interested in disparaging my fellow winemakers, so I'll just comment on a few wines that I found of interest during our visit. On the map below, you can see the major wine regions of Brazil. The lower regions roughly line up horizontally with some of the winegrowing regions in Uruguay, Argentina and Chile. Interestingly, we had a tough time finding many Brazilian wines in stores. Most the wines we've seen on the shelves in South America, and perhaps not surprisingly, have been from Chile and Argentina.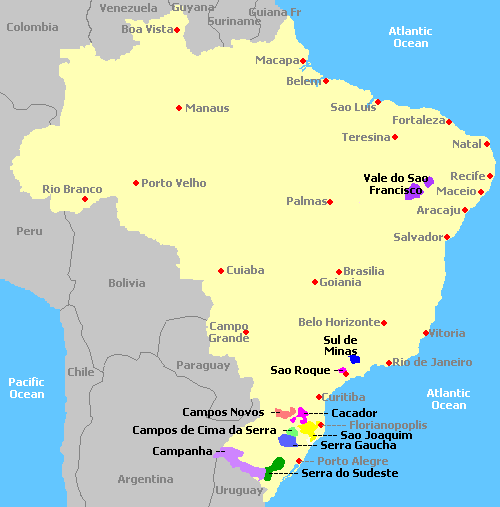 MIOLO 'Reserva' 2010 Cabernet Sauvignon (Camphana) - This wine had dark berry flavors and well extracted tannins. Full bodied and plenty of lively acidity, this wine was best enjoyed with a meal (Baiao de Dois?) rather than on its own.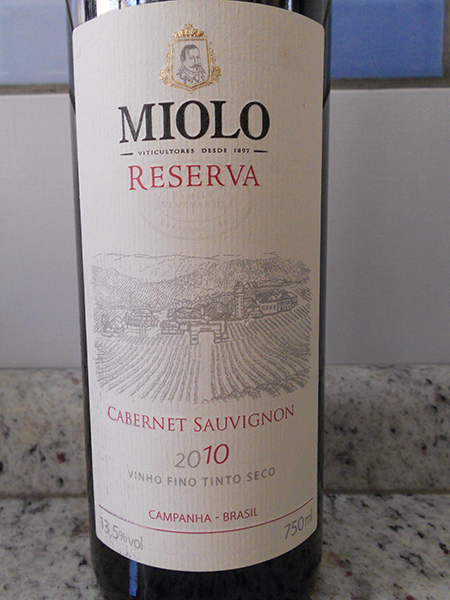 DUETTO 2010 Cabernet Sauvignon & Merlot (Vale dos Vinhedos) - This wine had a little reduced (stinky) tone when we popped the cork, but it quickly opened up with some air. It had a softer texture and a fuller body than the Miolo. The fruit and acidity were a little muted but this was the best wine for just having a glass on its own.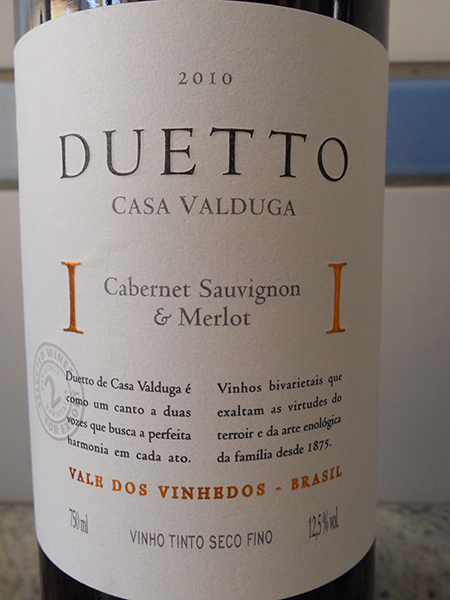 CASA VALDUGA 'Premium' Chardonnay (Vale dos Vinhedos) - This Chardonnay had very bright acidity and the green apple flavors made it taste more like a Sauvignon Blanc than a Chardonnay. Crisp and refreshing, this half-bottle disappeared pretty quickly.
We've enjoyed are our visit to Brazil and have been introduced to many new tastes, textures, sights and sounds. I hope you've enjoyed reading about a few of the highlights."