June 12, 2013 | American Revolution, New Releases, Thomas Jefferson | Chris Corley
A Virginian in France ...
"Posted By : Chris Corley
Considering that our family winery and vineyard is named Monticello and that our father built a beautiful representation of Jefferson's Charlottesville home at the winery, one might correctly presume that we have an affinity for Thomas Jefferson.
Thomas Jefferson's many accomplishments and brilliant mind have been well documented over the last 300 years, and we'll leave the details of many of those for future discussions. Today, I'm thinking about his time spent from 1784-1789 as Ambassador to France. He accomplished a great deal for our country during those years, and he also developed and refined his love of architecture, gardening and his appreciation for wine while there.
He was well ahead of his time when he determined that America would need to import vine cuttings from France to make truly world-class wines. Unfortunately, they did not have the knowledge of the phyloxerra root louse that we now have, so it took some time for his foresite to ring true. Today, much of Napa Valley is planted to cuttings originated in France. His efforts in growing French winegrapes at Monticello in Charlottesville were met with difficulty, largely due to phyloxerra, but his conceptual forward thinking was brilliant. The years this well-educated man from the forests of Virginia spent in France were very impressionable on him in many ways.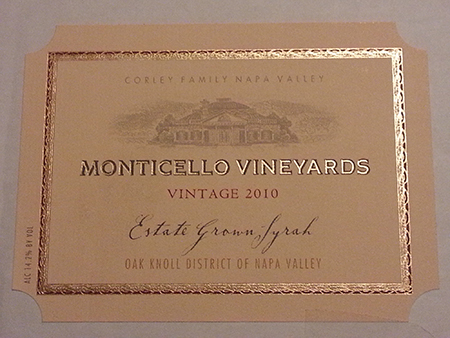 As I write this, I'm enjoying a glass of our newly released 2010 Estate Grown Syrah. Interestingly, this is a wine made from French cuttings Syrah 470 & Syrah 174 , a portion of which was aged in Virginian oak barrels. The wine is dark, rich, brooding and has a finish as long as the Appalachians. The years this well-balanced wine from the fields of Napa spent in a Virginian barrel were very impressionable on it in many ways.
I'm enjoying this new release today, not just hedonistically, but also with a subtle nod to history and a good man. Here's to TJ and to our new release of Monticello Vineyards 2010 Estate Grown Syrah!"