April 16, 2020 |
Chris Corley
When our dad, Jay Corley, came to the Napa Valley 50 years ago, Pinot Noir was one of the varietals that drew him to the southern end of the valley, in what is now known as the 'Oak Knoll District of Napa Valley'.
In 1970, our vineyards were among the most southern vineyards in the Napa Valley. Areas like Carneros and Coombsville were not really under any major development back then. For that matter, many current areas well-regarded today for Pinot Noir were not yet developed. Coastal areas and current regions in Oregon may have been sparsely developed, if at all at those times.
So, in 1970, our dad figured if he was going to grow world class Pinot Noir in California, he was going to plant his grapestakes in the cooler southern end of the Napa Valley. We planted several other varietals, and over the course of 50 years, we've expanded our varietal selections widely, but for this post we're going to focus on Pinot Noir.
Pinot Noir is an alluring grape for growers, winemakers and consumers alike. It's a delicate, thin-skinned grape which makes it a little more fickle in the vineyard. It is less forgiving in the field than some other varietals, and can require more precision and TLC throughout the growing season. It's also more sensitive to yields (lbs grapes per vine), so we find ourselves being careful about the yields in the vineyard. It's not unusual for us to cut fruit off early in the growing season to keep the yields at lower levels. Quality over quantity!
The seeds of the Pinot Noir grapes carry a high potential level of tannins, so during fermentation we take care in not overextracting, so that we can find the right finesse of balance between aromas, flavors, body and structure, and finish. With Pinot Noir, our guiding principle is grace and finesse, and it can be easy to overextract due to the high potential tannins, so we tend to be much more gentle in our management of the Pinot Noir fermentations relative to some of our other red varietals.
With grace and finesse as a driving factor in our Pinot Noir winegrowing, we also tend towards picking these grapes at lower sugar levels. Additionally, we have a different perspective of ripeness with Pinot Noir, preferring to pick at lower sugar levels, with brighter aromas and higher acidity than our other red varietals., which we tend to push towards higher levels of ripeness in the vineyard.
Currently, we're growing Clones 777, 667, and 113 on our estate vineyards. I find noticeable differences between all three clones. 777 tends to be the most complete single clone, with cherry, strawberry, cola aromas and flavors, and a nice round midpalate. I find Clone 667 to display a little more razzle on the nose, with aromas and flavors like raspberry and hints of blackberry, but with little less fullness on the palate. Clone 113 has generally been a more aromatic clone for me, with lighter strawberry and floral hints of violet and roses.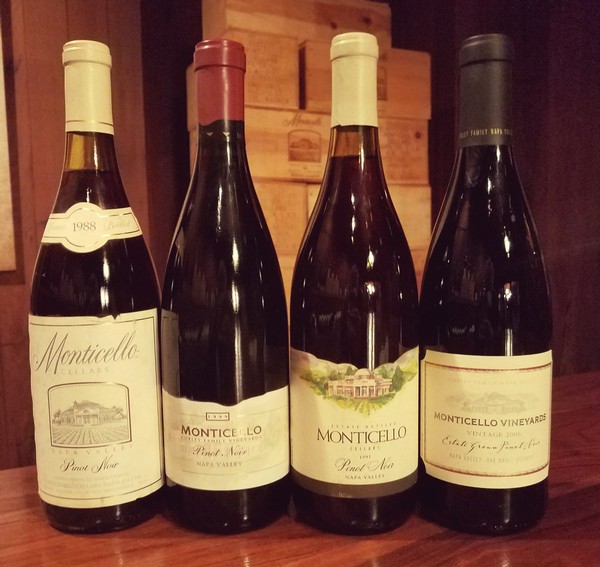 Our MONTICELLO Pinot Noir is generally a blend of all three clones, while our CORLEY offering is a single vineyard (Monticello Vineyard), single block (Block 2), single clone (777) offering from the estate. Personally, I don't have a favorite, but I do enjoy the two different wines at different times, and for different reasons.
Our MONTICELLO Pinot Noir displays a nice diversity of all three clones, and shows a wonderful balance, both aromatically and on the palate as a result. Our CORLEY showcases the appealing singularity of the Clone 777 grown in the front of the estate on Block 2. In terms of overall mouthfeel and texture, CORLEY tends to be slightly more full-bodied than the MONTICELLO, a slight 'bigger' wine.
We'll be enjoying a glass of Pinot Noir this Friday night while celebrating with the Napa Vintners 'Open that Bottle of Napa Valley Pinot Noir' (April 17).
Cheers,
Chris Corley
For more information on the Napa Vintners virtual tasting programs, please visit https://napavintners.com/psa/open_that_bottle/
… and open a bottle and follow the event on Facebook 'Open That Napa Valley Pinot Noir Night – Online Event'!
For information on how to purchase our Corley Pinot Noir, please visit